COVID-19 research: remote breathing therapy
Author: UNB Research
Posted on Jul 30, 2020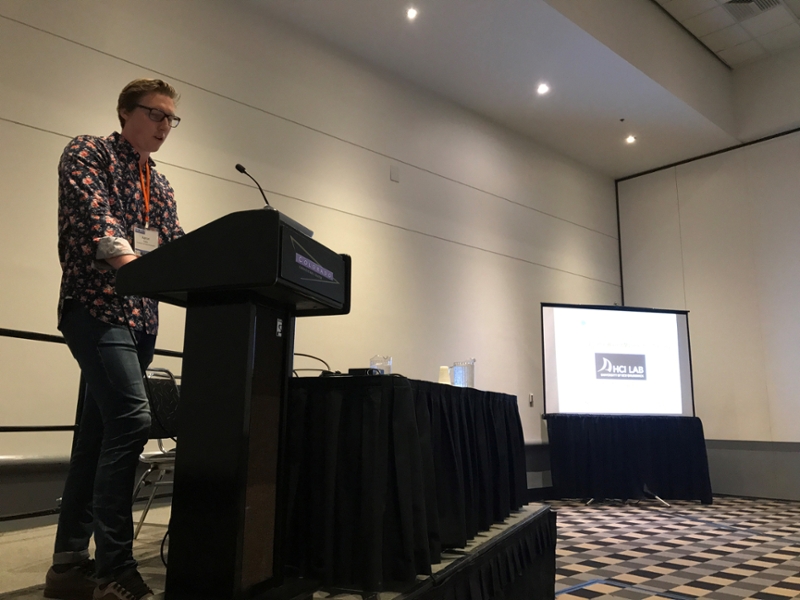 ---
---
 Around the world, researchers across all fields and disciplines are working to address the challenges, issues and implications of the 2019 novel coronavirus pandemic. Here at UNB, our own research community is part of that global movement.

We recently announced 13 new, funded COVID-19 research projects; here's a little more about the expertise, the passion and the capacity behind one of them. Want to read the others? Find the full list of stories here.
Dr. Erik Scheme (Electrical and Computer Engineering, Fredericton), Dr. Scott Bateman (Computer Science, Fredericton) and PhD candidate Aaron Tabor
Who are you?
Dr. Erik Scheme:
I am an Associate Professor in Electrical and Computer Engineering, the NB Innovation Research Chair in Medical Technologies at the Institute of Biomedical Engineering, an Adjunct Professor at Dalhousie Medicine New Brunswick, and Director of the Health Technologies Lab. My research focuses on machine learning and signal processing for human machine interaction, rehabilitation, and digital health, and frequently includes collaborations with industry, community, and clinical partners.
Dr. Scott Bateman:
I am an Associate Professor in the Faculty of Computer Science and the director of the Human-Computer Interaction Lab. My research focuses on enabling people to work and play together in new ways, so that we can learn from each other and lead healthier, happier lives. My group's work has included research into mixed reality, game design, computer supported cooperative work, novel interactions, visualization, and serious games for learning and health.
Aaron Tabor:
I am a PhD student working with both the Human-Computer Interaction Lab in the Faculty of Computer Science and the Institute of Biomedical Engineering under co-supervision of Drs. Scheme and Bateman. I have completed both my undergraduate degree in Software Engineering and my master's degree in Computer Science at UNB.
My research focuses on supporting recovery and rehabilitation in vulnerable populations by creating games that incorporate therapeutic exercises. More specifically, my PhD research has focused on games and tools to support breathing and respiratory therapies, to help people with conditions like asthma, COPD, and stress and anxiety management.
What are you working on?
One key challenge that COVID-19 raises is the need to quickly transition to remote and virtual forms of interaction, including healthcare. In this project, we are working to design technology that is specifically optimized to support remote breathing therapy - both making it easy and engaging for patients to practice from their home, and to provide doctors and clinicians with the information they need to effectively track and guide their patients through recovery.
To make it as accessible as possible, we aim to do this using only the capabilities of a normal mobile phone, avoiding the need for expensive, complex, or limited availability clinical or medical devices in the patient's home.With our funding from NBIF, NBHRF and ACOA, not only will we be able to further undertake research and development, we'll also be able to equip patients in recovery who do not already have access to a mobile phone or tablet.
As a respiratory illness, these kinds of breathing therapies can be important for COVID-19 recovery, so we'll be able to contribute directly to people recovering from the current pandemic. The project will also provide us with valuable knowledge that will help improve the quality of remote and virtual therapies more generally, so that we can help even more people.
Why did you decide to work on this research?
The combined expertise and interdisciplinary skills of our research team lend well to the design of therapeutic and rehabilitation games. In previous work, for instance, our team's research has led to the development of an award-winning prosthesis training game called The Falling of Momo that has gained clinical interest and uptake both locally and abroad.
However, effectively developing games to support breathing therapy for COVID-19 recovery will certainly present novel challenges and require hands-on access to the ins-and-outs of clinical practices, knowledge of data science and machine learning, and a firm foundation in the principles of software and game design. Projects like this emphasize how interdisciplinary research teams, such as our collaboration between the Faculty of Computer Science and Institute of Biomedical Engineering, can come together to tackle important real-world challenges.
This research is funded by the New Brunswick Innovation Foundation, the New Brunswick Health Research Foundation, and the Atlantic Canada Opportunities Agency as part of a special COVID-19 funding program.
Media: If you are interested in this story, and would like more information, please contact Jeremy Elder-Jubelin, Marketing and Communications Officer in the Office of Research Services.
More information:
Dr. Erik Scheme | Dr. Scott Bateman | Electrical and Computer Engineering | Faculty of Computer Science |  Institute of Biomedical Engineering | Human-Computer Interaction Lab
Research at UNB | Graduate Studies at UNB | Postdoctoral fellowships
Related Pages: COVID19 Research Stories