COVID-19 research: Clinical nursing education
Author: UNB Research
Posted on Aug 4, 2020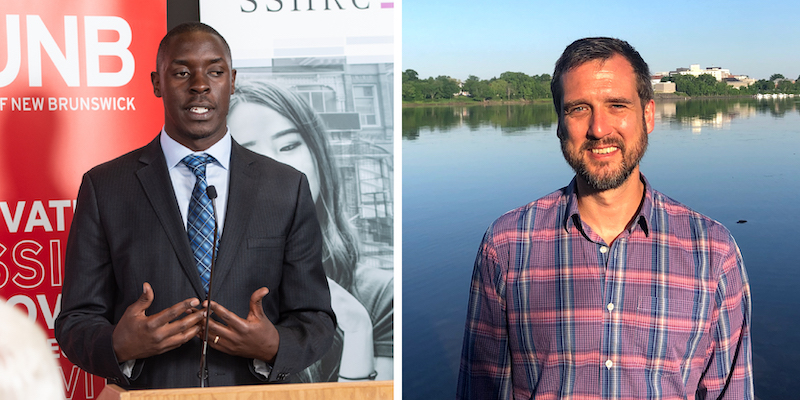 ---
Around the world, researchers across all fields and disciplines are working to address the challenges, issues and implications of the 2019 novel coronavirus pandemic. Here at UNB, our own research community is part of that global movement.

We recently announced 13 new, funded COVID-19 research projects; here's a little more about the expertise, the passion and the capacity behind one of them. Want to read the others? Find the full list of stories here.
Dr. David Busolo, Dr. Jason Hickey, Dr. Petrea Taylor, Renee Gordon and Alisha Keough (Nursing, Moncton and Fredericton)
Who are you?
Dr. David Busolo:
I am an Assistant Professor in the Faculty of Nursing and the nominated principal investigator for the current project. My areas of research interest are chronicity (cancer), health promotion, and immigrant and refugee health. In my research work, I use a variety of methodologies to examine the many ways that chronic illnesses affect health, and efforts to control the illnesses. I teach community and population health, nursing research, and families within populations.
Dr. Jason Hickey:
I am an Associate Professor in the Faculty of Nursing, and the CIHR Indigenous Research Chair in Nursing at UNB. I have a research background in Indigenous wellbeing, mental health and nursing pedagogy. Before the pandemic, most of my research focused on supporting Indigenous organizations to reduce inequity and promote wellbeing for their community members. While this is still my focus, I've had to shift to new ways of thinking about how to best provide this support.
Under One Sky is a non-profit Indigenous Friendship Centre in Fredericton serving families who live outside of reserves. They have been involved in a range of research projects through collaborations with the Urban Aboriginal Knowledge Network, UNB Faculty of Nursing, STU School of Social Work, the University of Moncton, Dept of Social Development and Public Health Agency Canada.
They are most interested in demonstrating how a community-driven, culturally safe approach to promoting wellbeing impacts our community, and have led projects on land-based healing, early childhood education, post-secondary student experiences with discrimination, homelessness, and others. COVID-19 has had a large impact on their ability to connect with clients, and they are excited to contribute to this and similar initiatives that will increase capacity to support the urban Indigenous community in New Brunswick during this pandemic.
Other members of our team are Dr. Petrea Taylor, an Assistant Professor in the Faculty of Nursing, Renee Gordon, a Senior Instructor in the Faculty of Nursing, and Alisha Keough, a Senior Instructor in the Faculty of Nursing.
What are you working on?
The COVID-19 pandemic has disrupted nursing education, clinical practice, and nurse-client interactions. Accordingly, we're working on an implementation and evaluation of a virtual-remote clinical delivery model designed to counteract the disruption in clinical education. Nine students are working with 18 indigenous families at Under One Sky Friendship Center as part of their Community and Population Health clinical placement. The students are engaging in community program development to assess families' digital and community health needs, strengths and resources. The students, under the direction of their instructors and a community appointed liaison, will develop ways to support these families. We will evaluate students' and families' experiences with the use of virtual-remote clinical delivery and share lessons that could be used in similar future initiatives.

With this research, we anticipate three key outcomes:
First, Under One Sky Friendship Centre, and the Indigenous families they work with, will gain access to health promotion information and peer support through their engagement with students, instructors and each other.
Second, this project will result in an innovative, evidence-based delivery model that will mitigate the disruption of clinical nursing education. Students and families will engage with each other despite the physical distancing measures that limit direct interaction.
Finally, we will co-develop capacity in virtual-remote education and healthcare that will enable the Faculty of Nursing and Under One Sky to potentially expand the scope of this initiative in the future, in order to better serve isolated and difficult-to-reach populations.
One crucial part of this work is to provide culturally safe nursing care. Forty-five nursing students and five faculty members have already received cultural diversity training from Under One Sky as an important first step in doing so.
Why did you decide to work on this research?
We decided to pursue this research study because of two main concerns impacted by the ongoing COVID-19 pandemic.
First, community support services, such as Under One Sky Friendship Centre, have had to find new ways to support their clients. They are currently developing a device lending program, and they identified digital health and safety as an important aspect of this program.
Second is the current disruption to nursing education, clinical practice, and nurse-client interactions. Usually, nursing students use at least 75% of their clinical education for direct interaction with clients and families. However, with the ongoing pandemic and related physical distancing measures, alternative approaches to clinical education are necessary. Our project uses innovative strategies to address and overcome both of these challenges together.
This grant provides an opportunity to test alternative ways of delivering education and supporting organizations we work with.
This project allows us to engage with one another, share our knowledge and expertise, and test innovative approaches in education and community engagement. It also challenges us to find solutions to long term problems, like poor access to hard-to-reach populations, in society.
COVID-19 has required us to consider innovative ways to adapt the way our faculty engages with and supports community partners. When crises emerge, research is critical in examining and testing innovative strategies to address the issues. Such innovation requires engagement with communities, using cost effective means, and sharing knowledge gained with the public, researchers, students, and practitioners.
Additionally, according to recent research from Statistics Canada, Indigenous people have been negatively impacted by COVID-19 disproportionately to the general population. Research activity is also a tool that we can use, together with community partners, to advocate for social justice by creating more equitable services.
This research is funded by the New Brunswick Innovation Foundation, the New Brunswick Health Research Foundation, and the Atlantic Canada Opportunities Agency as part of a special COVID-19 funding program.
Media: If you are interested in this story, and would like more information, please contact Jeremy Elder-Jubelin, Marketing and Communications Officer in the Office of Research Services.
More information:
Under One Sky | Dr. David Busolo | Dr. Jason Hickey | Dr. Petrea Taylor | Renee Gordon | Alisha Keough | Faculty of Nursing
Research at UNB | Graduate Studies at UNB | Postdoctoral fellowships
Related Pages: COVID19 Research Stories