COVID-19 research: Antigen production
Author: UNB Research
Posted on Jul 22, 2020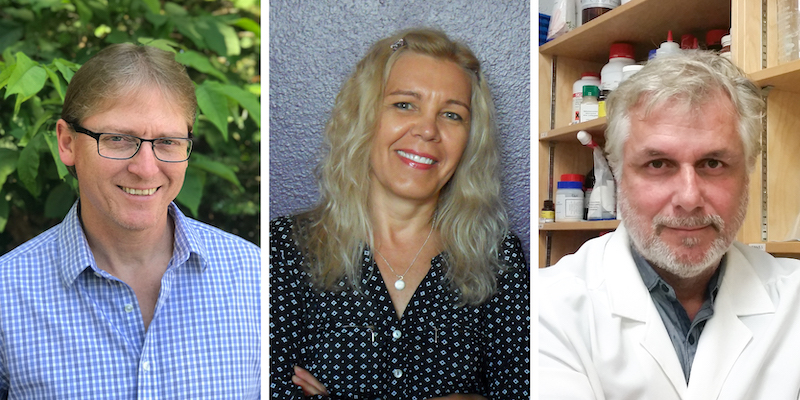 ---
Around the world, researchers across all fields and disciplines are working to address the challenges, issues and implications of the 2019 novel coronavirus pandemic. Here at UNB, our own research community is part of that global movement.

We recently announced 13 new, funded COVID-19 research projects; here's a little more about the expertise, the passion and the capacity behind one of them. Want to read the others? Find the full list of stories here.
COVID research: Dr. Shawn MacLellan, Dr. Michael Duffy and Dr. Aurora Nedelcu (Biology, Fredericton)
Who are you?
Dr. Shawn MacLellan:
I am an associate professor in the Department of Biology at UNB, with expertise in microbiology and molecular biology. My main research program focuses on the control of gene expression in bacteria.
Dr. Michael Duffy:
I am an associate professor in the Department of Biology as well. My research expertise deals with the detection and diagnosis of parasites, often with a goal of preventing parasite transmission.
Dr. Aurora Nedelcu:
I am a professor in the Department of Biology. My expertise is in evolutionary biology, including evolutionary medicine, where we apply evolutionary theory and principles to understanding diseases, especially cancer.
What are you working on?
The 2019 novel coronavirus (SARS-CoV-2, or COVID-19) expresses surface proteins that play key roles in the human cell infection process, and in the immunological response to the virus by the host. This means that your body's immune system trains itself to look for these specific proteins, unique to this virus.

Our research group will develop a strategy to produce and purify these viral proteins (also called antigens), to provide them to investigators for research and development purposes. We are able to do this without ever working with the live virus, so all our work is safe and non-infectious. A key use of these antigens will be to develop efficient tests that detect SARS-CoV-2 antibodies in previously infected individuals. So, if you've had COVID-19, even without symptoms, these tests would be able to tell you that.

This in turn will provide the opportunity to model herd immunity and infection patterns in New Brunswick and beyond.
Why did you decide to work on this research?
Producing and purifying coronavirus proteins is challenging, and requires specific skills and infrastructure. Commercial sources of these antigens are available, but are very costly. We realized we could pool our expertise and resources to develop an antigen production pipeline and provide a very low cost alternative for biotechnology and research laboratories in Canada that are developing new strategies for detecting and studying this virus, and controlling its spread.
Through partnerships with such laboratories, we can provide them virtually unlimited supplies of the same protein for a fraction of the cost. In addition, we can produce altered versions of the protein that are being identified in human populations, and such variants may simply not become commercially available in a timely fashion.

Unfortunately, this particular virus may be with us for a while, and other dangerous pathogens will emerge in the future. The scientific research we bring to bear today in fighting COVID-19 will help us overcome this current pandemic, and better prepare us for infectious disease challenges in the future.
This research is funded by the New Brunswick Innovation Foundation, the New Brunswick Health Research Foundation, and the Atlantic Canada Opportunities Agency as part of a special COVID-19 funding program.
Media: If you are interested in this story, and would like more information, please contact Jeremy Elder-Jubelin, Marketing and Communications Officer in the Office of Research Services.
More information:
Dr. Shawn MacLellan | Dr. Michael Duffy | Dr. Aurora Nedelcu | Department of Biology, Fredericton
Research at UNB | Graduate Studies at UNB | Postdoctoral fellowships
Related Pages: COVID19 Research Stories