Katie Davey to be the new executive director of the Pond-Deshpande Centre
Author: UNB Newsroom
Posted on Nov 9, 2022
Category: UNB Fredericton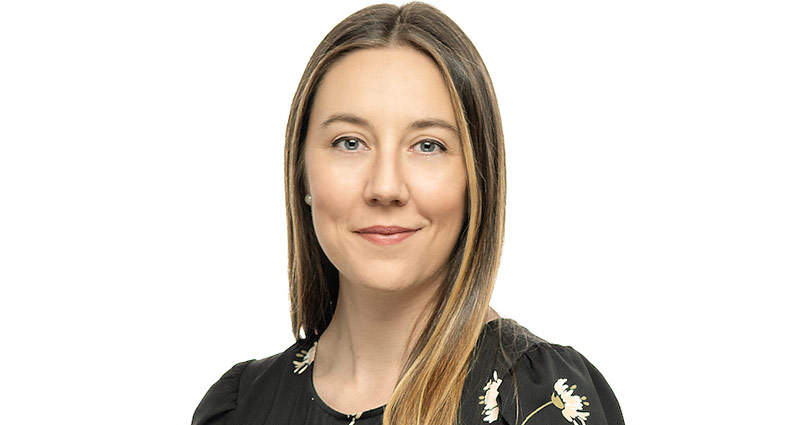 The University of New Brunswick (UNB) will welcome alum Katie Davey back to the community as the new Executive Director of the Pond-Deshpande Centre (PDC) starting Nov. 21.
"I'm thrilled to be returning to UNB. It is a community that has already given me so much, "said Davey. "I'm looking forward to giving back to the UNB community and fostering support for students finding their paths into social entrepreneurship in the same way I did."
Recognized as a 2021 Young Impact Leader by Future of Good for her role in creating and producing Public Policy Forum's (PPF) podcast - Policy Speaking. Davey is known to use creative and innovative solutions to improve or solve existing policy, program and system challenges, specifically those that create inequalities and impact the most vulnerable people in our world.
"Over the next three years, my goal will be to collaborate and accelerate positive change in our community. By building on the success of the PDC to date, the centre is well-positioned to be a national leader in social entrepreneurship and innovation, and with a global network through the Deshpande Foundation, the potential impact of PDC is exponential. I hope to catalyse that with the help of others."
In her most recent role, Davey served as director of policy and media at the PPF, a leading independent Canadian think tank. In this role, she built PPF Media and the Atlantic Initiative from the ground up.
Davey holds a degree in political science from UNB and a Master of Applied Politics from Wilfrid Laurier University. She has recently co-authored reports on redefining the childcare workforce in Canada, and creating a more sustainable future for journalism in Canada.
"Our world, country, and indeed our province is experiencing a series of simultaneous challenges whether it's the climate crisis, the healthcare and mental health crisis, the growing levels of inequality, or geopolitics instability," said Davey.
"The PDC is uniquely placed to contribute to solving the challenges of the day whether that's through supporting the next generation of social entrepreneurs, innovation through systems change, or supporting the non-profit sector to excel and accelerate their mandate. I'm honoured to be a part of leading that."
About the PDC
The Pond-Deshpande Centre (PDC) is a catalyst to grow and support a stronger culture of innovation and entrepreneurship in the province of New Brunswick.
Acting as the neutral party, the PDC brings together various stakeholders to tackle social issues by facilitating open dialogue and constructive discussions to bring about change where it is the most impactful.
By combining innovative ideas with deep, relevant, contextual knowledge, citizens can develop sustainable solutions to complex social, environmental and economic challenges while creating high-impact ventures that "do well & do good" in our region and the world.