Helping future Indigenous nursing leaders succeed
Author: UNB Newsroom
Posted on Nov 2, 2022
Category: UNB Fredericton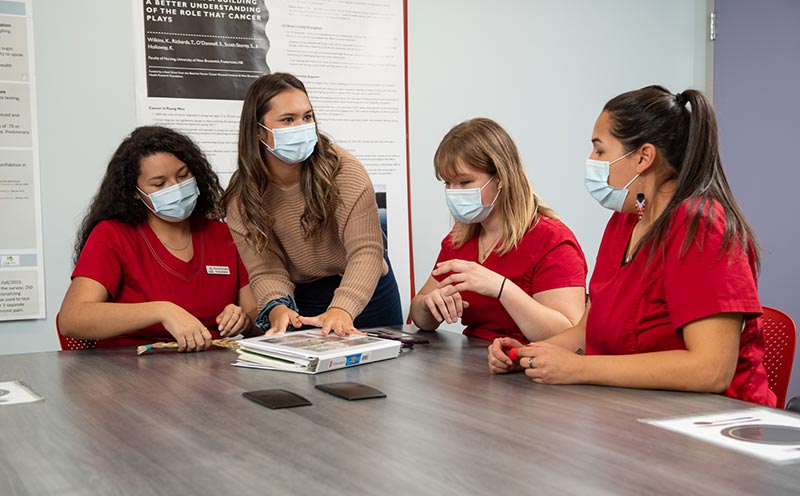 Indigenous nursing students at the University of New Brunswick (UNB) are supported and empowered to be the leaders of tomorrow.
UNB's new Nutsihpiluwewicik (Indigenous) admission pathway aims to increase the number of Indigenous nurses in a culturally responsive way, a process that has been developed with the heart and spirit of Indigenous ways of knowing and being.
Through this pathway, applicants with Indigenous ancestry (First Nation, Inuit and Métis) will undergo a wholistic review by an Indigenous selection committee. Applicants will be connected to community support from the very beginning.
"We are committed to reviewing admissions processes across our campuses to help answer the Calls to Action put forward by National Truth and Reconciliation Commission to bridge the educational attainment gap within one generation," says Dr. Kathy Wilson, UNB's vice-president academic (Fredericton).
Currently, the provincial workforce requires a minimum of 140 Indigenous nurses to represent the Indigenous population. UNB is meeting that need by increasing Indigenous student enrollment to 10 per cent in each of our nursing programs.
"It is important that we expand the number of Indigenous nurses, and to do so in a way that recognizes the value of Indigenous knowledge," says Dr. Petra Hauf, UNB's vice-president Saint John. "The recruitment of Indigenous nurses will make healthcare more accessible for First Nations Peoples and allow us to meet the ever-growing needs of our provincial health care system."
The pathway is in partnership with the Mi'kmaq-Wolastoqey Centre (MWC), Nutsihpiluwewicik (Healing Clan), the faculty of nursing on the Fredericton campus and the department of nursing and health sciences on the Saint John campus.
For more information about the Nutsihpiluwewicik (Indigenous) Admission Pathway, contact:
Although students in UNB's nursing pathways and programs are required to write the Casper Situational Judgement Test (CASPer), those students who self-identify as Indigenous may choose not to have the CASPer scores count towards admission decisions and instead choose the Nutsihpiluwewicik Admission Pathway.
Indigenous applicants who do not meet minimum admission requirements are encouraged to apply to UNB's Mi'kmaq-Wolastoqey Centre's (MWC) Wocopsqoltine Weci Spiqiyahtuweq / Weli'kwejik Elaqsultiek program. Contact the mwc@unb.ca for more information.
Media contact: Angie Deveau