Lorenzo Reading Series to feature author Ann-Marie MacDonald
Author: UNB Newsroom
Posted on Nov 1, 2022
Category: UNB Saint John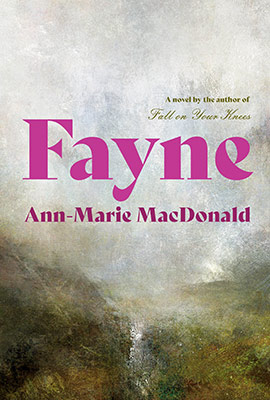 The Lorenzo Reading Series on the University of New Brunswick (UNB) Saint John campus will feature author Anne-Marie MacDonald reading from her book, Fayne, on Nov. 9.
Fayne is a tale of science, magic, love and identity. In this book, Charlotte Bell is growing up in the late nineteenth century at Fayne, a vast and lonely estate straddling the border between England and Scotland. Owing to a mysterious condition, she has been kept from the world by her adoring father, Lord Henry Bell. Strong and insatiably curious, Charlotte revels in the moorlands and has learned the treacherous and healing ways of the bog from the old, hired man, Byrn, whose origins are shrouded in mystery.
The magnificent portrait shadows her idyllic existence on the landing in Fayne House, which depicts her mother, a beautiful Irish American heiress, holding Charlotte's brother, Charles Bell. Charlotte has grown up knowing that her mother died giving birth to her and that her older brother, Charles, the long-awaited heir, died soon afterwards at the age of two.
When Charlotte's appetite for learning threatens to exceed the bounds of the estate, her father breaks with tradition and hires a tutor. But when Charlotte and her tutor's explorations of the bog turn up an unexpected artifact, her father announces he has arranged for her to be cured of her condition, and her world is upended. Charlotte's passion for knowledge and adventure will take her to the bottom of family secrets and to the heart of her own identity.
Ann-Marie MacDonald is an award-winning international best-selling novelist, playwright, actor and television presenter based in Montreal and Toronto. She is the author of Fall on Your Knees, The Way the Crow Flies, and Adult Onset. Her work has been translated into seventeen languages. In 2019, Ann-Marie was made an Officer of the Order of Canada in recognition of her contribution to the arts and her LGBTQ2SI+ activism. Her new play, Hamlet-911, premiered last summer at The Stratford Festival.
Fall on Your Knees is an award-winning and international bestseller and only the second Canadian book to be chosen as an Oprah's Book Club pick. Fall on Your Knees will have its world premiere stage adaptation to four cities – Toronto, London, Ottawa and Halifax – in January 2023.
The reading will take place on Wednesday, Nov. 9, at 12:30 p.m. at the Saint John Free Public Library, 1 Market Square. Admission is free and open to the public.
The Lorenzo Reading Series acknowledges the support of the Canada Council for the Arts, The League of Canadian Poets, the UNB Saint John campus and its private reading sponsors.
For more information, email lorenzo@unb.ca.