UNB helps dancers across the country collaborate using augmented reality
Author: UNB Newsroom
Posted on Nov 15, 2022
Category: UNB Fredericton , UNB Saint John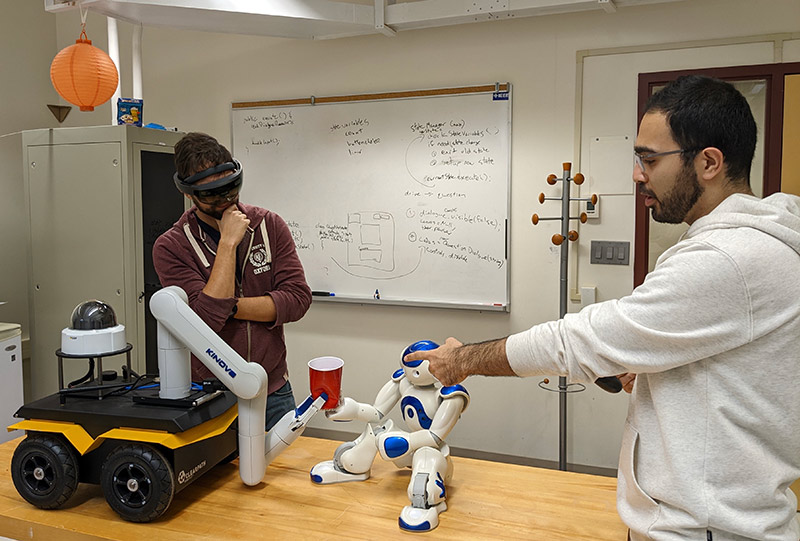 Daniel Rea is working with Atlantic Ballet Atlantique Canada to create an augmented reality application that will change the way dancers collaborate across the country.
An all-New Brunswick team at the University of New Brunswick's (UNB) Human-Computer Interaction Lab (HCI Lab) is in the process of developing the innovative new program called DanceXR.
Collaborating with dancers across the country is a timely and expensive venture for many small Canadian dance companies. However, with this new technology, choreographers and artists across the country will have access to immersive digital tools to help develop their dance skills without requiring expensive long-distance travel.
Rea is an assistant professor in the faculty of computer science and co-director of the HCI Lab. Rea works closely with UX design, intelligent user interfaces, video game design, robotics and virtual reality.
"Atlantic Canada has a beautiful arts community, but it is small," said Rea. "With DanceXR, Atlantic Ballet and other artists can take on new projects outside of the Maritimes while supporting the evolution of distance collaborative work practices using digital tools."
The augmented-reality application will convert choreographic work into transportable 3D content, including life-size interactive holograms.
Augmented reality, like virtual reality, blends the physical and virtual worlds together. Users wear a headset with a transparent lens and can navigate the real world while at the same time interacting with digital objects or characters.
"We are still in the beginning stages of developing this technology, but I am looking forward to building something that will help the arts community in New Brunswick grow and be recognized nationally," said Rea.
Dance XR is a research initiative and pilot project launched by Atlantic Ballet Atlantique Canada and funded by the Canada Council for Arts.
"Atlantic Ballet is incredibly proud to be building these new technologies here in New Brunswick," said Susan Chalmers-Gauvin, co-founder and CEO of Atlantic Ballet Atlantique Canada. "We are working with an incredible team of talented partners, including the UNB HCI Lab, who are helping bring our vision to life. Once developed, DanceXR will reduce financial, infrastructural and accessibility barriers for dance organizations and artists across Canada and beyond."
Media contact: Kathleen McLaughlin