The Lorenzo Society Reading Series to feature Goose Lane Editions authors Elaine McCluskey and Nicholas Herring
Author: UNB Newsroom
Posted on Oct 12, 2022
Category: UNB Saint John
The Lorenzo Society Reading Series on the University of New Brunswick (UNB) Saint John campus will feature authors Elaine McCluskey and Nicholas Herring reading from their books on Oct. 19.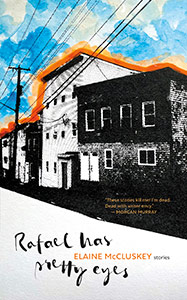 In McCluskey's latest collection of 17 stories, Rafael Has Pretty Eyes (2022), three characters have reached a four-way stop in life – some are deciding whether to follow the signs or defy them while others find a sinkhole forming beneath their feet.
Published by Goose Lane Editions, this book follows a former fast-talking, big-bucks radio host who now lives as a divorced payday loaner working in a strip mall; a football wide receiver at a small Canadian university who is working the night shift as a bouncer while recovering from his third concussion and a well-liked city councillor who is arrested on a packed bus. As one character puts it, "Life is just one extended series of anecdotes strung together until they kill you."
Set in the Maritimes but transcending regional boundaries, McCluskey's stories are experimental, sometimes provocative and often about those living on the margins. Smart, compassionate and unsparing, Rafael Has Pretty Eyes explores the absurdity and interconnectedness of a life adrift.
In addition to Rafael Has Pretty Eyes, McCluskey has published three other short-story collections — Hello, Sweetheart; Valery the Great and The Watermelon Social — and two novels, Going Fast and The Most Heartless Town in Canada. For many years, McCluskey spent countless days at paddling regattas and watched both of her children race for Canada. Currently living in Dartmouth, N.S., she has worked as a journalist, a book editor and a university lecturer. She has a BA from Dalhousie and an MA from Western University.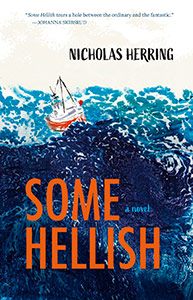 In Some Hellish (2022), Herring is a hapless lobster fisher lost in an unexceptional life and bored of thinking the same old thoughts. Following a hunch one day in December, he cuts a hole in the living room floor, installs a hoist and alters the course of everything in his life. His wife, Euna, leaves with their children. He buries the family dog in a frozen grave on Christmas Eve. He and his friend Gerry crash his truck into a field, only to be rescued by a passing group of Tibetan monks.
During the spring lobster season, Herring and Gerry find themselves caught in a storm front. Herring falls overboard miles from the harbour. He is lost at sea for days and assumed to be drowned. Miraculously, he is found alive. Having come so near to death, he is forced to confront the things he fears the most: love, friendship, belief and himself.
Also published by Goose Lane Editions, Some Hellish is a story about anguish and salvation, the quiet grace and patience of transformation, the powers of addiction and fear, the plausibility of forgiveness and the immense capacity of friendship and love.
Nicholas Herring's writings have appeared in the Puritan and the Fiddlehead. He lives in Murray Harbour, PEI, where he works as a carpenter. Some Hellish is Herring's debut novel.
Both readings will take place on Oct. 19 at 7 p.m. in the Ganong Hall Lecture Theatre on the UNB Saint John campus. Light refreshments will be provided. Admission is free and open to the public. Face masks are required. To join online, please use Teams.
The Lorenzo Reading Series acknowledges the support of the Canada Council for the Arts, The League of Canadian Poets, the UNB Saint John campus and its private reading sponsors.
For more information, email lorenzo@unb.ca.