UNB to grant one honorary degree, two teaching awards and one research award at its graduation ceremonies
Author: UNB Newsroom
Posted on Oct 7, 2022
Category: UNB Fredericton , UNB Saint John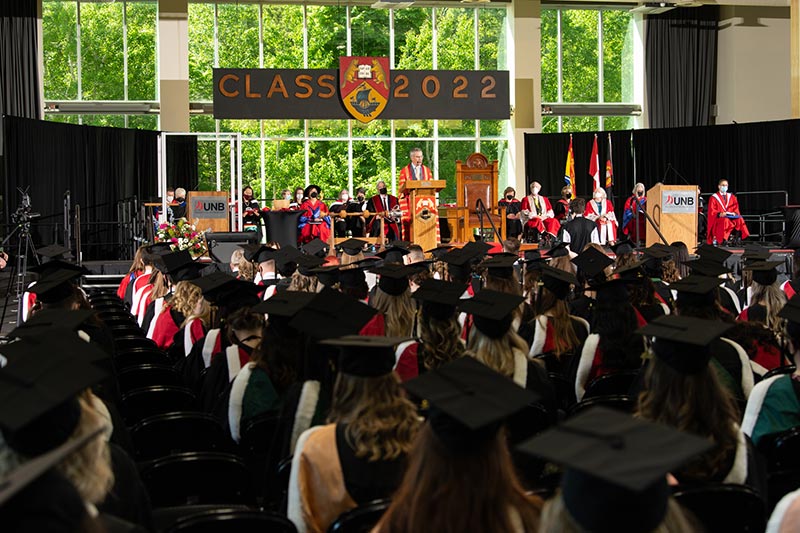 The University of New Brunswick will award an honorary degree to Hereditary Chief Stephen Augustine and will honour three outstanding professors with teaching and research awards at its graduation ceremonies.
Chief Stephen Augustine, Hereditary Chief on the Mi'Kmaq Grand Council will receive an honorary doctorate of letters in Saint John on Friday, Oct. 14. Chief Augustine holds a Bachelor of Arts in Anthropology and Political Science from St. Thomas University, a Master of Arts in Canadian Studies from Carleton University. He was appointed Dean of Cape Breton University's Unama'ki College in 2013, then Associate Vice-President, Indigenous Affairs and Unama'ki College, and is now Executive Director of the Donald Marshall Junior Institute.
A renowned Elder and Mi'Kmaq scholar, Stephen is dedicated to supporting education through Indigenous ways of knowing and fostering an environment for collaboration between organizations.
Stephen's book, Mi'kmaq and Maliseet Cultural Ancestral Material: National Collections from the Canadian Museum of Civilization, has proven to be a valuable resource for educators and researchers in understanding Indigenous culture. In 2009, Chief Augustine was awarded the National Aboriginal Achievement Award for his outstanding work in supporting the recognition and teaching of first nations culture, heritage and spirituality. In addition to his personal accomplishments, he is viewed as a respected supporter for the Indigenous community and serves as the Elder advisor for the Federal Court of Canada Judges, the Truth and Reconciliation Commission, and the Human rights Commission of Canada.
Most recently, Chief Augustine was appointed to the Order of Canada, for 2022, where he was recognized for his efforts in advancing Mi'kmaq studies and sharing his scholarly expertise and traditional knowledge with private and public organizations.
Dr. Ian Church, an associate professor in the department of geodesy and geomatics in the faculty of engineering, will receive the Dr. Allan P. Stuart Memorial Award for Excellence in Teaching in Fredericton on Thursday, Oct. 13. Dr. Church joined UNB in 2016 and has served UNB through exceptional contributions and leadership in teaching, research and mentoring undergraduate and graduate students. He is keenly supportive of the integration of active learning. Through his guidance, the program expanded its theoretical focus to include hands-on learning experiences that connect students to industry tools, processes and engineering design principles. By bringing new and exciting opportunities for students to the classroom, Dr. Church wants to ensure they have a well-rounded learning experience.
Basil Alexander, an assistant professor in the faculty of law, will receive the Dr. Allan P. Stuart Memorial Award for Excellence in Teaching in Fredericton on Thursday, October 13. Alexander joined UNB in 2019 and is currently working to obtain his doctor of philosophy in law at Queen's University. In the classroom, Alexander strives to bridge theory and practice. He is passionate about his students' success and creates an enriching and collaborative classroom through interactive methods and personal experiences working with law. As a professor, Alexander has taught courses such as legal research and advocacy law, legal ethics and professional responsibility, globalization, indigenous peoples and the law, and native rights. In 2020-21, he received the UNB Law Teaching Excellence Award to recognize his excellent teaching in this field.
Dr. Shelley Doucet will receive the UNB Award for Excellence in Research in Saint John on Friday, Oct. 14. Dr. Doucet is a highly respected professor in the faculty of nursing and health science, Jarislowsky Chair in interprofessional patient-centred care and director of the Centre for Research in Integrated Care at UNB. She has dedicated most of her professional career to research focused on improving patient care in Canada. She has a broad pan-Canadian research network as the research lead for the NB SPOR PIHCI Network, and as co-director for NaviCare/SoinsNavi, a research-based patient navigation centre for children with complex care needs in New Brunswick. In addition to her research, Dr. Doucet has been praised for her ability to provide a meaningful experience for students, trainees and staff. Her significant contributions to health research and the provision of front-line health services will no doubt continue to leave a lasting impression as her career further advances over the years.
Additional information related to UNB's fall graduation ceremonies is available at unb.ca/graduation.
Media contact: Kristen d'Entremont