Off-site Construction Research Centre emerges as hub for construction industry, university partnerships
Author: UNB Newsroom
Posted on Oct 27, 2022
Category: UNB Fredericton , UNB Saint John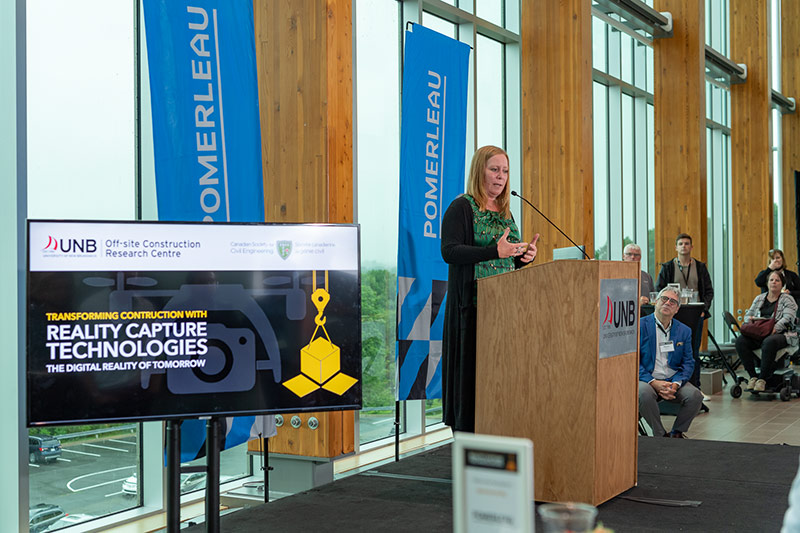 With the changing global climate, we need to better prepare for tomorrow, but this comes with high use of resources and costs for the construction industry. The solution to doing it most effectively is the involvement of reality capture technologies.
To start a conversation about the future of these technologies, the Off-site Construction Research Centre (OCRC) at the University of New Brunswick (UNB), in partnership with the Canadian Society for Civil Engineering (CSCE), recently hosted a three-day event, Transforming Construction with Reality Capture Technologies.
The Government of New Brunswick (GNB) played a key role, sending a large delegation to the event. A quarter of 170 participants. GNB's Department of Transportation and Infrastructure (DTI) was the event's title sponsor.
DTI Deputy Minister Rob Taylor said he looks forward to future collaborations between GNB and the OCRC.
"The conference was very well organized and diverse in its offerings. From the technical tours to the in-depth of knowledge and experience displayed by the speakers, this conference did a great job of showcasing the amazing potential that reality capture technologies have for the construction industry," Deputy Minister Taylor said.
At the event, DTI Minister Jill Green remarked on how New Brunswick must do more to compete and thrive globally. UNB professor Dr. Lloyd Waugh was encouraged by DTI's active participation in the event.
"Minister Green challenged us to transform the construction industry using remote capture technologies," Dr. Waugh said. "We brought together practitioners, vendors and researchers, and those conversations provided a vision of how the technologies are expected to evolve. The conference was a catalyst for collaboration and a stimulant for innovation champions."
In the construction industry, it is vital to ensure quality control, correct analysis and decision-making and the safety of workers. Using software to extract essential and usable information, reality capture technologies allow the replication of the real world and transform it into a virtual environment with maximum accuracy, resulting in better decision-making and quality.
A great example of this is monitoring real-world conditions of the Mactaquac Generating Station near Fredericton and projecting into a digital environment to analyze which maintenance and repairs should be prioritized.
The OCRC event served as a catalyst for connecting researchers with industry and exploring solutions to how reality capture technologies can help ensure a safe environment for construction workers, prolong the life of critical buildings and structures, reduce gas emissions, save time on projects and allocate resources more efficiently.
This conference is slated to take place again in 2024 with a new theme focused on "improving the way we build."
About Off-site Construction Research Centre
The Off-site Construction Research Centre (OCRC) builds on UNB's faculty of engineering strengths in civil engineering and related pre-manufacturing technology. Established in 2018, the OCRC uses a technology-driven approach to optimize off-site manufacturing and on-site assembly to revolutionize the construction industry and train the next generation of builders.