UNB professor receives AAU Distinguished Teaching Award
Author: UNB Newsroom
Posted on Sep 22, 2022
Category: UNB Saint John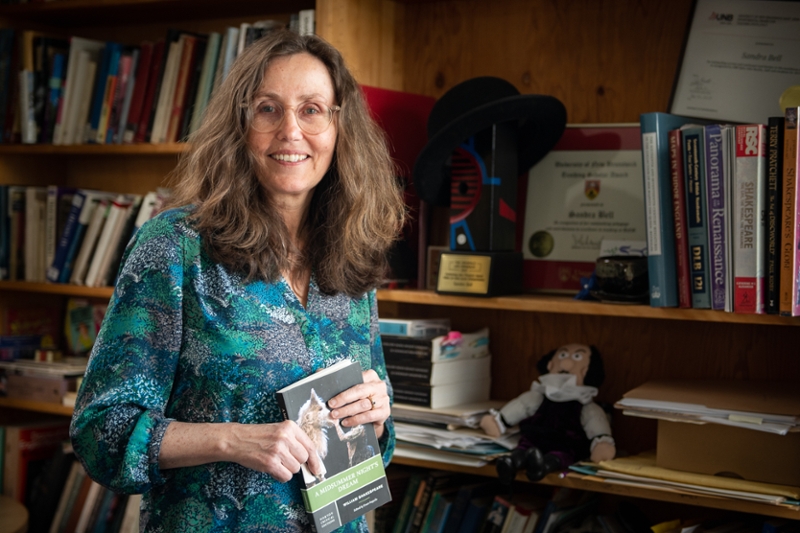 At the University of New Brunswick, our most valuable assets are our people. We are proud to celebrate their outstanding achievements and the innovative work they do to help shape our institution. 
One of those people is Dr. Sandra Bell, who is the recipient of the 2022 Association of Atlantic Universities (AAU) Distinguished Teaching Award.  
This annual regional award recognizes excellence in university teaching over several years, primarily at the undergraduate level. AAU member universities propose nominees for the Teaching Awards program and recipients are selected by the AAU's Coordinating Committee on Faculty Development. 
"This teaching award comes after years of classroom practice, discussions with colleagues and feedback from students," said Dr. Bell, a professor in the department of humanities and languages on UNB's Saint John campus. "I'm grateful for the light it shines on UNB's support of pedagogy."  
Since joining the faculty of arts on UNB's Saint John campus in 2000, Dr. Bell has taught courses in sixteenth and seventeenth-century literature (including Shakespeare), as well as drama and poetry. She has taken students to London four times as part of UNB's travel study program. Several of her courses connect students with the local theatre and teaching communities to provide practical learning experiences. She also co-developed and co-teaches a course for arts students that enables them to reflect on the skills they're developing and to interview people in careers of interest. 
Dr. Bell was the recipient of UNB's Allan P. Stuart Award for Excellence in Teaching in 2006 and was a University Teaching Scholar from 2009 to 2012. She also received the Neil Scott Instructional Leadership Award, the Change One Thing Award (2016) and the Teaching Innovation Award (2018). She is one of three editors of an anthology of sixteenth-century prose and verse, published by Broadview Press. She is active in theatre in the Saint John community and helped establish the Fundy FRINGE Festival in 2013. In 2017, Dr. Bell received the Originals Arts Award: Performing Arts (Theatre). 
 "The AAU Teaching Awards program strongly represents a core value of our universities: student success, innovation and leadership," said Prof. Dawn Russell, chair of the AAU. "Those honoured today are true innovators in the classroom. They inspire our students to become the next generation of scholars and community leaders." 
The AAU represents the 16 universities in Atlantic Canada and serves as an advocate for the important role Atlantic universities play in preparing future leaders of our communities in path‐breaking research and innovation and contributing to the economic prosperity and quality of life of the Atlantic region.  
Media contact: Angie Deveau 
Photo: Jeff Crawford/UNB Media Services