University of New Brunswick welcomes new students to its campuses
Author: UNB Newsroom
Posted on Sep 2, 2022
Category: UNB Saint John , UNB Fredericton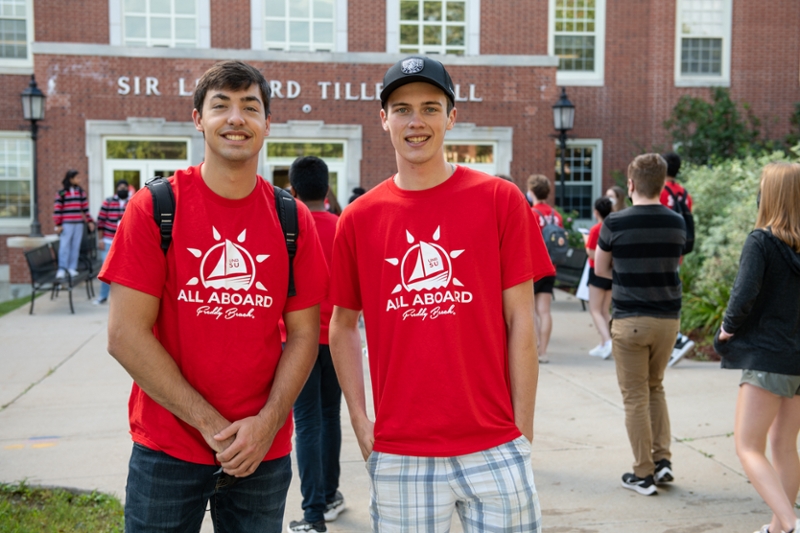 The University of New Brunswick's Fredericton and Saint John campuses are coming to life as Orientation Week activities begin and school gets back in session. Here are some of the Fall 2022 Orientation highlights: 
UNB Fredericton  
Commencement – Tuesday, Sept. 6, from 9 – 10 a.m. at the Richard J. CURRIE CENTER 
The UNB Fredericton campus gathers each fall to induct new students into academia officially. This special ceremony gives the whole campus community the chance to welcome new students to the UNB family. 
Freddy Beach BBQ – Thursday, Sept. 8, at 5 p.m. in downtown Fredericton 
Join in this tradition as the City of Fredericton welcomes new students to the community at the Freddy Beach BBQ! Students will learn what adventures await in Fredericton and discover their new favourite local spots and activities. A fast-paced scavenger hunt follows the barbecue. 
Cultural Coffee House – Friday, Sept. 9, from 7 – 9 p.m. in the SUB Quad 
This event is an evening celebrating the incredible diversity present at UNB and in Fredericton and an opportunity for students to experience some fantastic talent housed at UNB. Bring your blanket and take in the show! 
Shine Day – Saturday, Sept. 10, at 9 a.m. throughout Fredericton 
Shinerama is Canada's largest post-secondary school fundraiser and has been a University of New Brunswick tradition since 1973. Student volunteers will be campaigning across the city, with a primary focus on the area surrounding the UNB Fredericton campus. Students will be canvassing door-to-door, washing cars, and at booths in the Boyce Farmers Market, raising money and spreading awareness about cystic fibrosis. 
UNB Saint John 
Commencement – Tuesday, Sept. 6, from 3 – 4 p.m. in the Ganong Hall Lecture Theatre 
The UNB Saint John community will gather on Tuesday to welcome new students and celebrate their entry into higher education. All faculty, staff and current students will cheer on the latest UNB community members and show their support as they begin their journey.  
Student Services BBQ – Tuesday, Sept. 6, from 12 – 2 p.m. in the Quad 
All students are invited to a free BBQ in the Quad, hosted by UNB Saint John Student Services. A DJ will keep the tunes going as you learn more about the clubs and societies on campus. Be sure to stop at the photo booth to create some memories with new friends!  
Lily Lake Day – Thursday, Sept. 8, from 2:30 – 5 p.m.  
Limited spots are available for this outing to Lily Lake. Try out canoeing, kayaking or water biking. Explore one of Saint John's most popular spots! Transportation is provided, and students will meet in the campus parking lot. 
Bottle Drive – Saturday, Sept. 10, from 11 a.m. – 3 p.m. in the parking lot 
Bring your bottles to the Saint John campus on Sept. 10 and support Canada's largest post-secondary school fundraiser. Shinerama is an initiative in support of Cystic Fibrosis Canada and has been an Orientation Week staple at UNB since 1973. 
Photo credit: UNB Media Services