Smudging ceremony and sacred fire to take place on UNB's Fredericton campus
Author: UNB Newsroom
Posted on Sep 12, 2022
Category: UNB Fredericton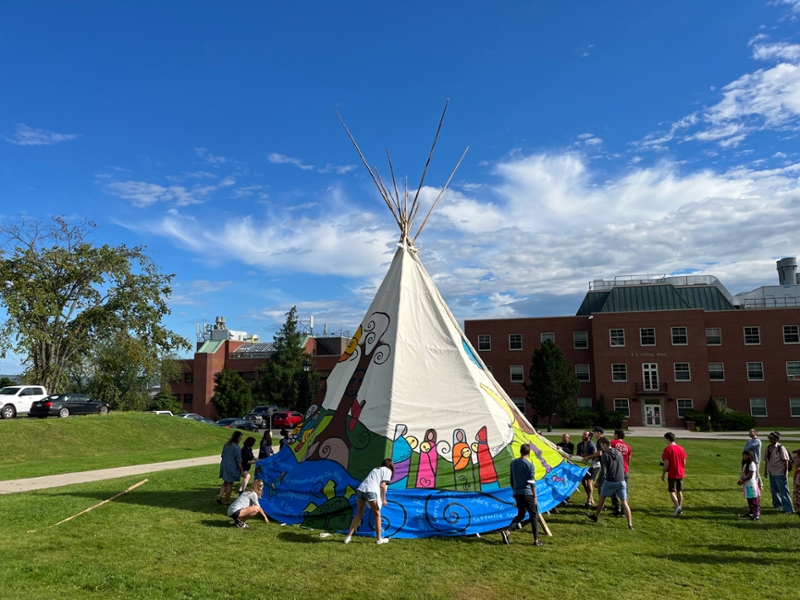 The Mi'kmaq-Wolastoqey Centre (MWC) at the University of New Brunswick (UNB) will hold a smudging ceremony and sacred fire at the tipi on the Fredericton campus. 
Members of the community are invited to attend these events. The smudging ceremony will be held on Tuesday, Sept. 13, and the sacred fire will take place Tuesday, Sept. 27. UNB's Kcicihtuwinut (Knowledge Carrier-in-Residence), Jeannie Bartibogue, will be on hand to greet attendees. She will offer her knowledge about smudging and the teachings related to sweat lodges and longhouses. 
Through her role of Kcicihtuwinut, Elder Jeannie offers spiritual and cultural guidance for students and advises the university on policies to address the 94 calls to action put forward by the national Truth and Reconciliation Commission of Canada. 
The raising of the tipi, which happened on Sept. 1, was part of UNB's former Elder-In-Residence Imelda Perley's vision to establish sacred spaces on UNB's campus. 
"These events provide an opportunity for the community to share and be nourished by the spirit of Wabanaki education," says Natasha Simon, director of the Mi'kmaq-Wolastoqey Centre. "In doing so, I hope to honour the vision of my predecessor, Elder David Perley, who created spaces of harmony and mutual respect at UNB." 
The canvas of the tipi features art by Wolastoqi artist Natalie Sappier. Her project was aimed at honouring those who are preserving Indigenous languages. The tipi will be used in the short term until space can be found for a longhouse, a structure traditionally used by Wabanaki nations. 
The events will take place at the tipi located in front of the Harriet Irving Library as follows:  
Sept. 13, from 1 to 2 p.m. and 2 to 3 p.m., Elder Jeannie will share her knowledge of the smudging ceremony. 

 

Sept. 27, from 3 p.m. until sunset: A sacred fire will be held to celebrate the fall equinox. 

 
On both days, community members will also have a chance to offer tobacco for the fire and put out their good intentions for the longhouse and sweat lodge, as well as for the upcoming National Day for Truth & Reconciliation on Sept. 30. 
For more information, please contact the Mi'kmaq-Wolastoqey Centre.  
Photo credit: UNB Media Services