Faculty of business on UNB Saint John campus earns prestigious AACSB International accreditation
Author: UNB Newsroom
Posted on Jul 29, 2022
Category: UNB Saint John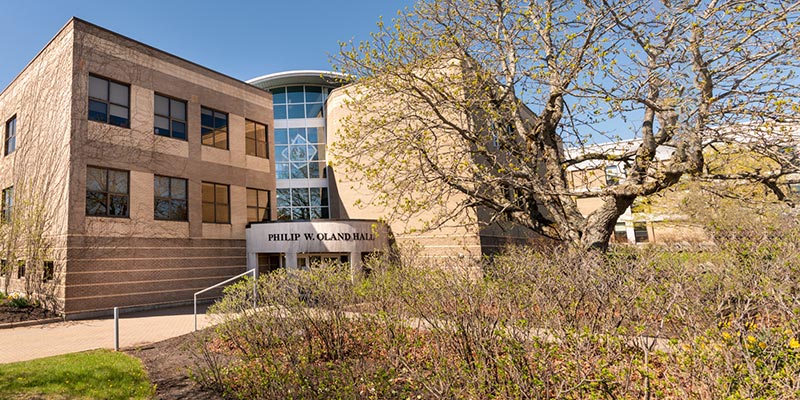 The exceptional quality and commitment to excellence of the faculty of business on the University of New Brunswick's (UNB) Saint John campus was recognized recently with the announcement that the faculty has earned accreditation through the Association to Advance Collegiate Schools of Business International (AACSB).
Less than six per cent of the world's schools offering business degree programs hold AACSB business accreditation. A total of 950 institutions across 59 countries and territories have earned this accreditation in business, with 192 institutions maintaining supplemental accreditation for their accounting programs. UNB has received accreditation for both its Saint John and Fredericton campuses.
"The faculty of business is truly deserving of such an important designation due to their outstanding programming, innovative ideas, community relationships, impact and genuine dedication to their students' success," said Dr. Paul J. Mazerolle, president and vice-chancellor of UNB. "Earning accreditation from AACSB is something few achieve, and this endorsement is an indication of the faculty's high standards. We are incredibly proud of the faculty of business for their significant accomplishments, their commitment to excellence and for making UNB a twice-AACSB accredited institution."
The faculty of business offers extensive programs and opportunities, including a one-year master of business administration program, networking and professional development sessions, and hands-on experiences through co-op placements.
"On behalf of the faculty, staff, senior leadership and all the passionate alumni, students, industry partners and community members who supported our accreditation efforts, I thank our accreditation and peer-review teams," said Dr. Michel Rod, dean of the Saint John faculty of business. "They helped us achieve this milestone in our continuing journey to be the school of choice for those pursuing business education."
AACSB-accredited schools have successfully undergone a rigorous review process conducted by their peers in the business education community, ensuring that they have the resources, credentials and commitment needed to provide students with first-rate, future-focused business education.
"AACSB Accreditation recognizes institutions that have demonstrated a focus on excellence in all areas, including teaching, research, curriculum development and student learning," said Stephanie M. Bryant, executive vice president and chief accreditation officer of AACSB. "We congratulate the faculty of business and Dean Michel Rod on earning accreditation and applaud the entire faculty of business team – including the administration, faculty, staff and students – for their roles in earning this respected honour."
Media contact: Kelsey Pye