UNB and St. Francis Xavier University sign new MOU
Author: UNB Newsroom
Posted on Jun 30, 2022
Category: UNB Saint John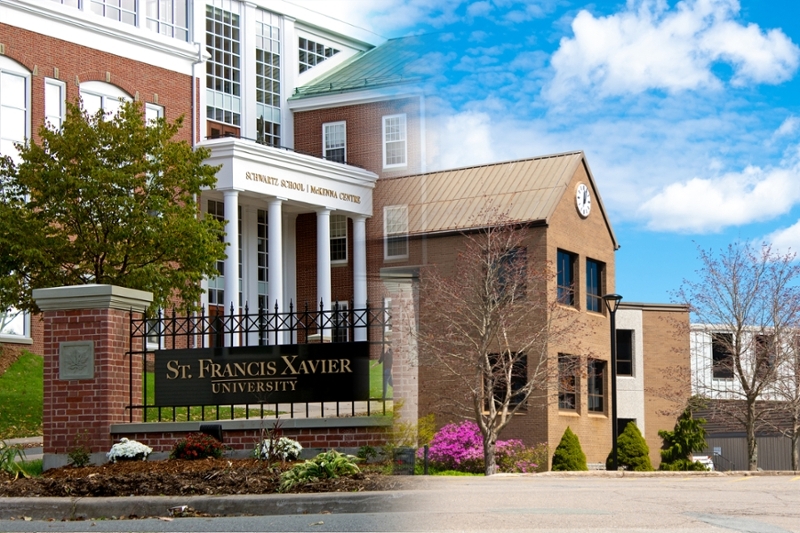 Two of Atlantic Canada's public universities have signed a new memorandum of understanding (MOU) that will enable bachelor of science (BSc) students at one school to easily transfer to complete their bachelor of science in human nutrition (BScHNU) at another.  
"We are committed to creating partnerships that provide educational opportunities for our students, giving them the tools required to thrive in a dynamic field with ever-increasing career opportunities," says Dr. Petra Hauf, vice-president of UNB's Saint John campus. "This MOU is an example of how collaboration and teamwork enable us to drive growth and development within the Atlantic region." 
Under this agreement, current BSc students from the University of New Brunswick's Saint John campus will be able to transfer to St. Francis Xavier University after completing two full years of their program. Qualifying students must have a minimum average of 60 per cent and will receive advanced standing of up to 60 credits at StFX. After transferring to StFX, students will be required to complete the compulsory courses for the BScHNU. 
"This new pathway will make it easier for UNB students to pursue studies in the growing field of food and nutrition," says Dr. Ann Fox, associate professor and chair of the department of human nutrition at StFX. "It will also expand opportunities to students who are enrolled in the bachelor of science program to pursue career paths in dietetics, food science, nutrition research, teaching, public health and food entrepreneurship. We are excited about having students from UNB join the nutrition program at StFX."
About UNB
The University of New Brunswick (UNB) is Canada's oldest English-language university, and New Brunswick's only national comprehensive university. Founded in 1785, the multi-campus institution has a rich history as well as a dynamic focus on innovation, experiential learning and entrepreneurship. UNB has more than 9,500 students from nearly 75 countries while several thousand more take UNB courses online and at partner institutions around the world. 
About St. Francis Xavier University (StFX)
Established in 1853, StFX is consistently recognized as one of the best universities in Canada. StFX exceeds the needs of today's undergraduates through providing the very best academic experience -- outstanding teaching, exceptional hands-on research opportunities, and global exchanges -- all within Canada's most vibrant and inspiring residential campus. Here, the focus is on the academic and the personal development of every student, making community and social engagement a large part of the learning experience. Our students are academically strong and highly engaged in every aspect of life, determined to make a positive impact on the world. For more, visit www.stfx.ca.
Media contacts
Kelsey Pye
Strategic Communications & Marketing
University of New Brunswick
k.pye@unb.ca 
Cindy MacKenzie
Manager of Media Relations
St. Francis Xavier University
cmackenz@stfx.ca