NBCC, UNB sign Letter of Intent with Marshall Skills Academy
Author: UNB Newsroom
Posted on Jun 13, 2022
Category: UNB Saint John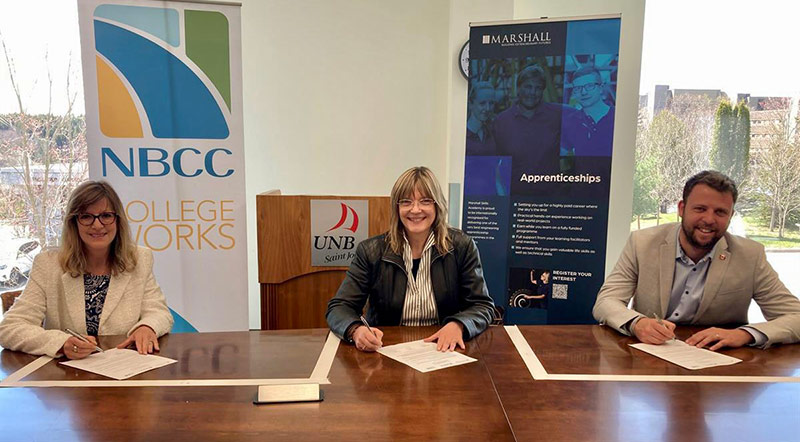 A three-way partnership between New Brunswick Community College (NBCC), University of New Brunswick (UNB), and the Marshall Skills Academy has been established to develop innovative new ways to provide students with experiential learning opportunities in the manufacturing and engineering sectors.
The three parties recently signed a Letter of Intent with the objective of addressing skills shortages for the underemployed, newcomers, and military personnel transitioning to civilian life with a focus on talent retention. The Letter of Intent sets the stage for collaboration based on mutual benefit and enhancement of current opportunities within the province of New Brunswick based on the needs of local communities and industry.
The collaboration partners will work with regional engineering and manufacturing organizations to stimulate economic growth through a delivery model of education that will assist in both attracting and retaining the highest quality engineers in the region.
Quotes
"As the world of work changes with advancements in technology, more New Brunswickers are going to need upskilling and reskilling opportunities to keep pace. Partnerships like this and new approaches to training are key to providing quality-assured opportunities to more learners than ever before."
- Ann Drennan, Vice President Academic and Research, NBCC
"UNB is committed to partnering with other post-secondary institutions and industry to provide students with an outstanding learning environment needed to be workforce-ready. Through this collaboration with NBCC and Marshall Skills Academy, we can create work integrated learning opportunities and professional development training solutions, as well as retain valued workers in New Brunswick, increase incomes and job security."
- Dr. Petra Hauf, Vice-President Saint John, UNB
"Marshall is delighted to be working with both NBCC and UNB to help bring a range of new learning opportunities in manufacturing and engineering to people across New Brunswick. We have been delivering our award-winning apprenticeship programs in the UK for over 100 years and, as we continue to develop our Canadian footprint with the opening of our new production facility in Moncton later this year, it important to us that we play an active role in developing a highly skilled workforce in the province that can be sustained for generations to come."
- Dan Edwards, General Manager, Marshall Skills Academy
About NBCC
With six campuses across New Brunswick, NBCC contributes to New Brunswick's social and economic prosperity by supporting the aspirations of individual learners, seizing the opportunities of the labour market, and collaboratively solving the challenges of communities and industry. In addition to more than 90 certificate and diploma programs, NBCC also provides specialized and customized training to meet the needs of specific sectors and communities.
About UNB
The University of New Brunswick is Canada's oldest English-language university. Founded in 1785, the multi-campus institution has a rich history and a dynamic focus on innovation, experiential learning and entrepreneurship. UNB has more than 10,500 students from over 100 countries enrolled in degree-credit courses on its campuses, online and at partner institutions around the world, as well as thousands of continuing education learners.
As a comprehensive university, UNB is home to substantial research expertise in many disciplines. Its faculty and staff have collaborated extensively with public and private sector leaders to advance research and foster innovation.
About Marshall Skills Academy
Headquartered in Cambridge, Marshall Skill Academy delivers a range of award-winning engineering Apprenticeships, Technical, Regulatory and Health and Safety training to the aerospace sector.
Media contacts