Federal funding supports new Canada Research Chair in Healthy Aging at UNB
Author: UNB Newsroom
Posted on Jun 2, 2022
Category: UNB Fredericton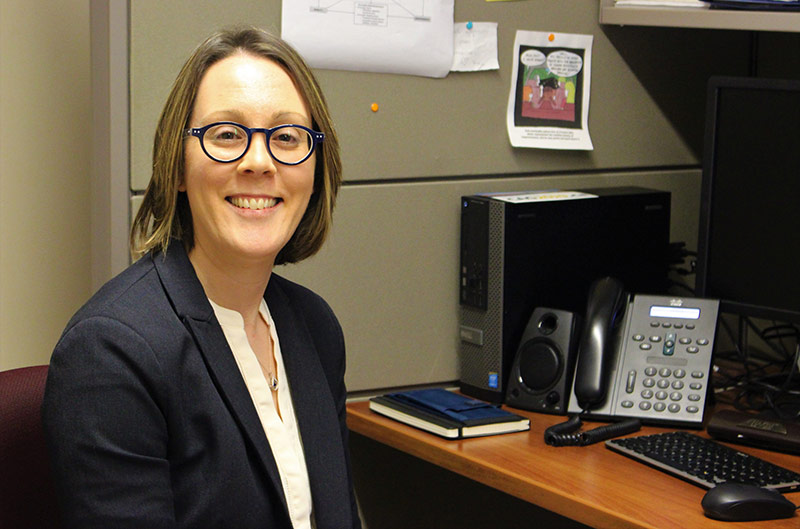 The Government of Canada has announced an investment of more than $102 million in support of 119 new and renewed Canada Research Chairs (CRC) across the country, along with more than $1.7 million in research infrastructure funding for nine of the new and existing chairs. Among the new CRCs is UNB researcher Dr. Catherine Bigonnesse, an assistant professor of political science and now Canada Research Chair in Healthy Aging.
"Improving the health of Canadians is a complex but important societal challenge," said Dr. David MaGee, UNB's vice-president (research). "Researchers like Dr. Bigonnesse devote their time, effort and intellect to work in this area that directly benefits our communities as well as scholarship. Congratulations to our new Canada Research Chair and thank you to our government partners for their continued support."
Through her research, Dr. Bigonnesse will explore the impact of social policy on older adults' health in provinces with accelerated aging populations. She aims to support the development of evidence-based healthy aging policies in the Atlantic provinces, and to develop tools that help decision-makers better understand the impact of policy decisions. She is particularly interested in advancing areas in need of major reforms, including senior housing, community-based support services and home care.
"Healthy aging is an increasingly important issue for communities and governments across Canada," said Dr. Paul J. Mazerolle, president and vice-chancellor of UNB. "By undertaking this research, Dr. Bigonnesse and her collaborators will be well positioned to help inform advancements in services and supports, and to improve the lives of older adults."
With $79,056 in research infrastructure funding through the Canada Foundation for Innovation's John R. Evans Leaders Fund, as well as $50,000 from the New Brunswick Health Research Foundation, Dr. Bigonnesse will also establish the Healthy Aging Policy Innovation Lab at UNB in Fredericton.
This lab will provide a space that puts research users, like older adults and stakeholders, at the centre of the Chair's research activities. As a social innovation lab – possibly the first in Canada dedicated to health aging – it will serve to promote the collaborative creation of research in real-life environments. Dr. Bigonnesse's lab will also provide space for students and trainees to work together in a collaborative and engaged learning environment.
Media contact: Jeremy Elder-Jubelin