Inaugural Digital Innovation Summit sparks big ideas
Author: UNB Newsroom
Posted on May 18, 2022
Category: UNB Fredericton , UNB Saint John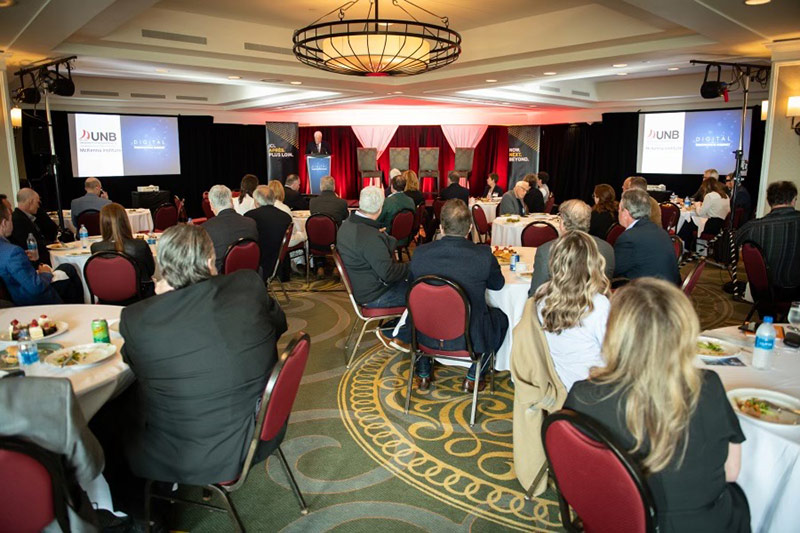 The inaugural Digital Innovation Summit, hosted by the McKenna Institute and the University of New Brunswick, saw big names in New Brunswick industry come together to talk digital transformation.
"If we want to maintain our momentum forward, it is necessary to involve all stakeholders in the conversation," says the Hon. Frank McKenna, founder of the institute. "To at once nurture an incoming workforce, reskill the existing and prioritise innovation in our industries, we must all be pulling in the same direction."
New Brunswick has made great strides towards the goal of a prosperous, technology enabled future, but the job is not done. The Digital Innovation Summit allowed those who have fully embraced technology-driven solutions into their business model, and those who are just beginning their journey, to share strategies, create partnerships and develop a deeper understanding of emerging technologies.
Summit partner EY demonstrated these opportunities at its Now, Next, Beyond showcase. The showcase covered topics such as process mining to uncover data that has never before been available to decision makers, the quantum computing revolution, and how businesses can leverage the metaverse.
"At EY, we pride ourselves in our ability to bring highly knowledgeable professionals together to understand and support our clients' unique needs by providing customized approaches – enabled by technology – that challenge the status quo to deliver innovation, transformation and long-term value," says Claude Francoeur, EY New Brunswick office managing partner.
While various sectors across New Brunswick have embraced the use of technology to increase productivity and expand their businesses, we still need to have our eyes on the horizon. How can we make sure that New Brunswick's talent pipeline and business leaders are ready to continue leveraging opportunities in emerging technology? Attendees of the summit rallied to this cause. The ideas shared over the past two days will set the province on target for a future proof economy where all can thrive.
"The University of New Brunswick is the epicentre of research and innovation in New Brunswick, and I have been delighted to co-host such important discussions to advance our province's future," says Dr. Paul J. Mazerolle, president and vice-chancellor of UNB. "Gathering the province's leaders in innovation strengthens and reinforces our resolve to work purposefully and in partnership to drive economic growth and address many of the grand challenges we currently face across the community."
About the McKenna Institute
The McKenna Institute fuels economic growth and social progress by advancing the use of digital technologies in New Brunswick. The Institute collaborates to accelerate our talent pipeline, nurture ideas and enable all New Brunswick communities to thrive in a digital world.
Media contact: Charlotte Hill, Marketing and Communications Officer, McKenna Institute 506-282-1155, Charlotte.Hill@unb.ca