New UNB partnership with Canadian Nuclear Laboratories cements nuclear research leadership
Author: UNB Newsroom
Posted on Mar 16, 2022
Category: UNB Fredericton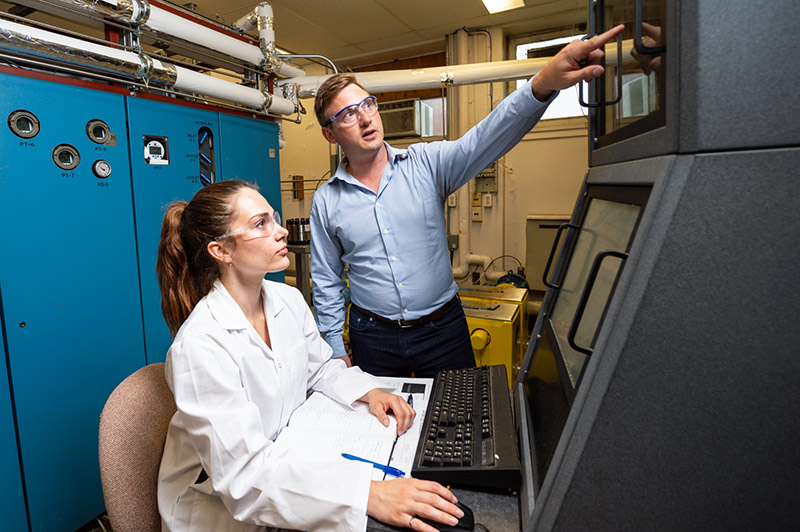 A new partnership between the University of New Brunswick and Canadian Nuclear Laboratories (CNL) will enable closer research and training collaboration between UNB's Centre for Nuclear Energy Research (CNER) and the nation's premier nuclear science and technology organization.
The partnership will leverage CNER's expertise in specialty areas related to water-cooled nuclear power plant operations, including current-generation CANDU reactors. Specifically, the organizations will focus on providing chemistry support to power plant operators on a commercial, consulting and operational support service basis.
"I am very pleased that this formal partnership has been established as it extends the possibilities and capabilities of both parties in supporting the chemistry control of our nuclear sector," says Dr. William Cook, director of UNB's CNER. "CNER's leadership in this area will undoubtedly be augmented, as will CNL's capabilities to leverage the expertise of our university's professors, researchers and students. I see this as a logical progression of the strong working relationship that has long existed between our organizations."
Under the agreement, CNER will provide technical, chemistry services work to CNL as a subcontractor to industry clients, augmenting CNL's suite of expertise and service offerings, providing additional, research-related revenue to UNB. It will also provide new avenues to help deploy the UNB-developed HEPro corrosion monitoring technology, by leveraging CNL's international network of clients and partners and its drive to seek new commercial opportunities.
"CNL is very excited to enter into this partnership with the University of Brunswick, which combines the resources of both parties to fill a key void in chemistry services for water-cooled nuclear power reactors," says Joe McBrearty, CNL's president and CEO. "Together, CNL and UNB have the collective expertise, infrastructure, equipment and systems to service water-cooled reactors, so this is a very natural fit for both parties. The partnership builds on a longstanding relationship with an organization that shares our commitment to technical excellence and customer service."
In addition to these commercial benefits, the partnership will also provide both organizations with access to training and mentorship: CNL's staff will have access to UNB's research expertise, and UNB's researchers, graduate students and postdoctoral fellows will be able to engage in transformative, career-building educational opportunities by working with CNL.
"We are committed not just to deepening our knowledge, but to sharing that knowledge with our partners and colleagues, and to helping solve the complex challenges we face in our communities," says Dr. Paul J. Mazerolle, president and vice-chancellor of UNB. "This partnership recognizes the expertise and innovative solutions found here at UNB, and the specialists of tomorrow that we support. Congratulations to Dr. Cook and the CNER team, and welcome to our new partner, CNL."
Collaborative work is already underway through research and development programs sponsored by the CANDU Owners Group and contracts with Canadian nuclear utilities.
Media contact: Jeremy Elder-Jubelin
Photo: Dr. William Cook, director of the Centre for Nuclear Energy Research at UNB. Credit: Cameron Fitch/UNB