UNB engineering students develop 3D printer recycling system to reduce plastic waste pollution
Author: UNB Newsroom
Posted on Mar 22, 2022
Category: UNB Fredericton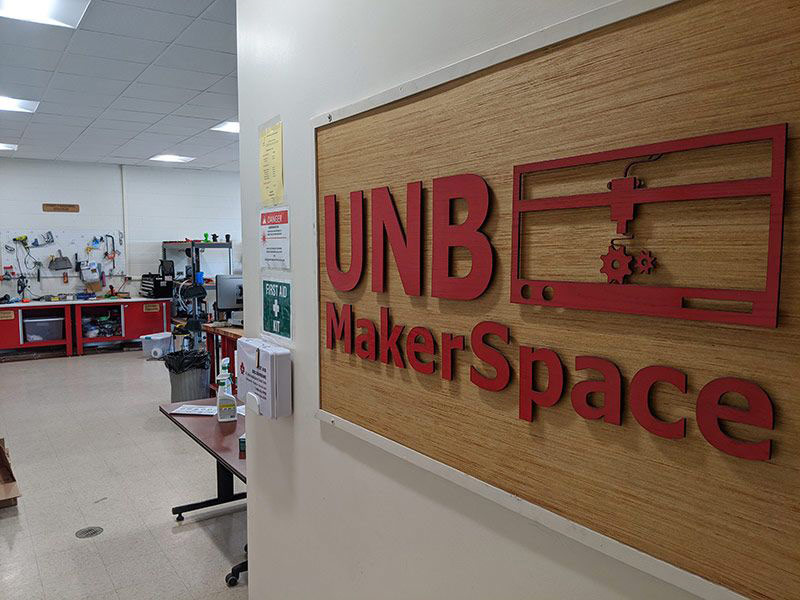 Four engineering students from the University of New Brunswick are developing a recycling system for the UNB Makerspace to reduce the amount of plastic discarded and negatively impacting the environment.
The recycling system works as an industrial sized shredder, plastic extruder and filament winder. After traveling through a cooling loop, the filament is coiled onto a spool and ready to be reused in a 3D printer. Polylactic (PLA) filament is one of the most used 3D printing materials in the world and is not recognized by Recycle NB.
Josh Adams, Rachelle Basque, Ian Van Oosten and Lucas Lloyd are designing the system as part of their capstone design project, which will be featured at the upcoming Engineering Design Symposium.
"Our project was created with the goal to reduce the amount of plastic that the Makerspace throws out every year" says Adams. "This will not only save money on material costs but reduce the impact plastic waste has on the environment."
In Canada, over three million tonnes of plastic waste is thrown away every year and only nine per cent is recycled while the rest ends up in landfills, waste-to-energy facilities or the environment.
The recycling system will be available for use in the Makerspace this coming summer. It will also be an open-source project for other fabrication workshops, makerspaces, libraries and communities looking to reuse leftover PLA filament.
"Having this shredder in the Makerspace will serve as a consistent reminder that we need to start making more eco-friendly decisions and find ways to reuse materials instead of throwing them out," says Adams.
The symposium cultivates a safe space for forward-thinking final year students to collaborate and tackle complex societal challenges.
"This project is an opportunity to apply the knowledge and skills we have learned throughout our degree to address and find solutions for the worldwide problem of pollution," says Basque.
The group will present their project at UNB's annual Engineering Design Symposium on Thursday, April 7, 2022. The event will be held online and in-person at the Wu Conference Centre. Registration is available and all are welcome to attend free of charge.
Media contact: Kathleen McLaughlin