The McKenna Institute at UNB receives $750,000 grant from 2021 TD Ready Challenge
Author: UNB Newsroom
Posted on Jan 26, 2022
Category: UNB Saint John , UNB Fredericton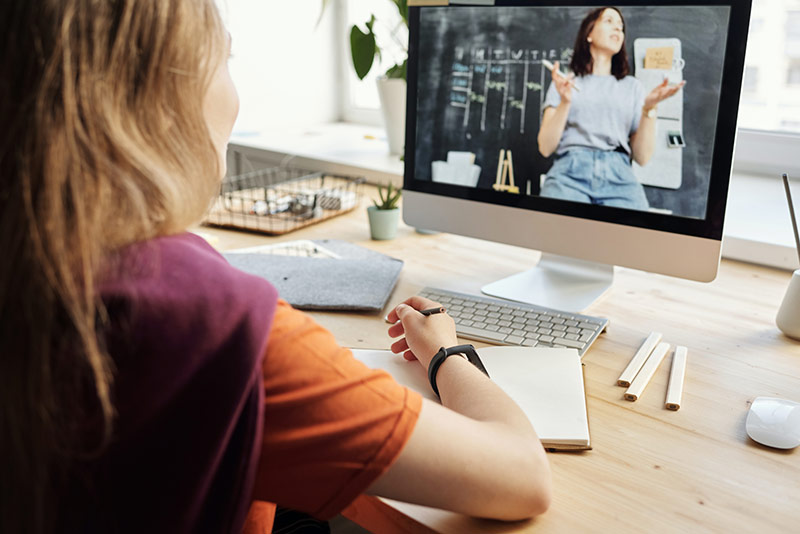 The McKenna Institute at UNB, the Joint Economic Development Initiative Inc. (JEDI) and the Ulnooweg Education Centre's digital acceleration program has been named one of the 15 recipients of the 2021 TD Ready Challenge presented by TD Bank Group.
The 2021 TD Ready Challenge will support The McKenna Institute at UNB and partners to address the effect of the COVID-19 pandemic on the loss of learning opportunities in many communities.
COVID-19 has had deep social and economic impacts on communities. Throughout the pandemic, many schools across North America were forced to repeatedly close and reopen to curb the spread of the virus, with classes abruptly moving online. These disruptions are expected to disproportionately affect certain students, with significant learning loss being magnified by socioeconomic status, geographic location, as well as race and ethnicity.
"We are excited to be working with JEDI and Ulnooweg Education Centre," said Dr. Paul J. Mazerolle, president and vice-chancellor of UNB. "This program uses a hands-on approach to learning designed to build on a variety of STEM topics including, but not limited to, mathematics, technology, computer literacy, biology and sustainability to the youngest, fastest growing demographic in Canada."
"New Brunswick will only succeed in the digital economy when every person has the opportunity to explore our digital future ," said Frank McKenna, founder of the McKenna Institute at UNB. "I am delighted that one of the first projects of the Institute is this important collaboration with JEDI and Ulnooweg Education Centre."
"The goal of the TD Ready Commitment is to help people feel confident about their future and create opportunities to succeed in a changing world, and the McKenna Institute at UNB has brought forward an innovative solution to help disproportionately impacted students catch up on their learning and minimize future loss," said Janice Farrell Jones, Senior Vice President, Sustainability and Corporate Citizenship, TD Bank Group.
As a key component of the TD Ready Commitment, the bank's corporate citizenship platform, the TD Ready Challenge is an annual initiative aimed at providing funding to programs that are focused on helping to address societal issues. TD established the TD Ready Challenge in 2018 and has since provided $40M (CDN) in funding to 50 organizations across its North American footprint to support scalable solutions identified within the four drivers of the TD Ready Commitment: Financial Security, Vibrant Planet, Connected Communities and Better Health.
About UNB
The University of New Brunswick (UNB) is among Canada's top comprehensive universities. We offer world-class programs with a small-university experience. On a mission to create the premier university environment in which to learn, work and live, UNB has been leading discovery and innovation for centuries. Our entrepreneurial thinking has been unlocking creative potential since 1785. The unique nature of our programs attracts students from over 100 countries.
About The McKenna Institute
The McKenna Institute is an agile, passionate and entrepreneurial centre of excellence based at UNB. It is driving a broad, multifaceted agenda for digital transformation in New Brunswick. The McKenna Institute is rooted in New Brunswick with a strong outward gaze, partnering with local communities and organizations while seeking digital best practices globally. Working with stakeholders in government, industry, non-profits and academia, we enrich our province today and position it for a bright future with new levels of prosperity, progress and pride.
About JEDI
The Joint Economic Development Initiative (JEDI) is a leading Indigenous organization dedicated to working with partners to foster Indigenous economic development in New Brunswick. Founded in 1995, JEDI provides its clients with a variety of Indigenous business and workforce development services. JEDI programs include Business Incubators and Accelerators, Advanced ICT Training, Trades Training, and Digital and Financial Literacy Training.
About the Ulnooweg Education Centre
The Ulnooweg Education Centre is an Indigenous-led registered charitable organization that aims to bring foundational change and empower Atlantic Canada's Indigenous communities through the advancement of education. Their mandate reflects in three major pillars ranging from collaborative research to the development and delivery of quality educational programs. Programs and initiatives are focused on key areas of science & innovation, agriculture, and financial literacy.
About The TD Ready Commitment
TD has a long-standing commitment to enriching the lives of its customers, colleagues and communities. As part of its corporate citizenship platform, the TD Ready Commitment, TD is targeting CDN $1 billion (U.S. $775 million) in total by 2030 towards community giving in four areas critical to help open doors for a more inclusive and sustainable tomorrow – Financial Security, Vibrant Planet, Connected Communities and Better Health. Through the TD Ready Commitment, TD aspires to link its business, philanthropy and human capital to help people feel more confident - not just about their finances, but also in their ability to achieve their personal goals in a changing world.
Media contact: Kelsey Pye
Photo credit: Pexels