Student-led initiative Kreating Conversations offers mental health support for peers
Author: UNB Newsroom
Posted on Jan 26, 2022
Category: UNB Saint John , UNB Fredericton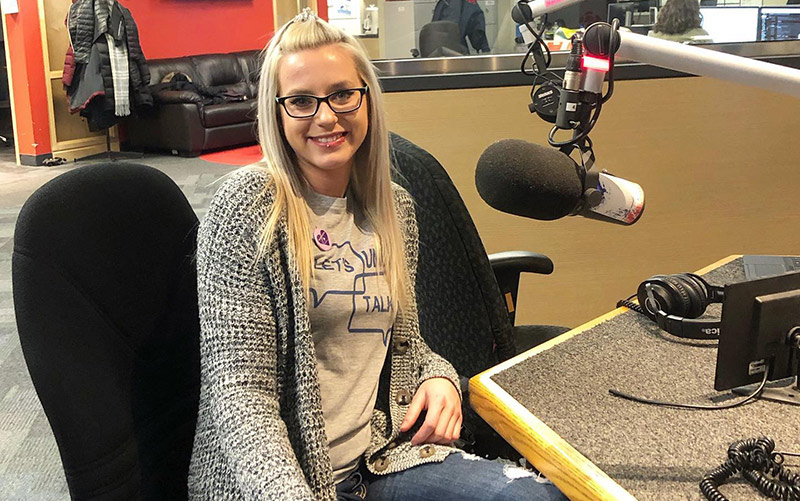 The University of New Brunswick joins the Bell Let's Talk campaign in support of mental health illness awareness across the country. This is the 12th year Bell has brought together all of Canada to donate to mental health initiatives and is committed to making a positive change in the lives of Canadians.
UNB Saint John psychology honours student Kaydie Surette has created a safe and inclusive space for students to open up about their struggles with mental health through Kreating Conversations.
In the early months of 2019 Surette started Kreating Conversations with her friend Kourtney Creamer, who was a strong advocate for mental health services. In April 2019, Creamer passed away due to pneumonia complications and, to honour her legacy, Surette continued to pursue their newly founded organization and spread awareness of mental health illness.
"It was Kourtney's idea to start an organization surrounding advocacy for mental health on campus," says Surette. "Kourtney believed that the importance of having such an organization will allow students who may be struggling to be able to feel more accepted and be more open with their mental health struggles."
Kreating Conversations is a student-led group focused on normalizing conversations about mental health and mental illness. Some initiatives include Wellness Wednesdays, Care to Share, where students can anonymously post stories, and mental health "sounds and stories" events which are currently cancelled due to the pandemic.
"With COVID-19 causing people to experience prolonged loneliness, it is important to stay together as a university and let everyone know it's okay to talk about it what they are going through."
In high school Surette herself struggled with mental health issues. Since the launch of Kreating Conversations, she has been able alleviate her own struggles and find joy in offering a listening ear to help her peers feel comfortable sharing their stories.
"Having mental health initiatives be something I'm part of on a weekly basis allows me to better cope with my thoughts and feelings when they arise and that is why it's so important to be part of this organization," says Surette. "I want to let students know that it's okay to not be okay, but it is also possible to learn to cope with issues and to never feel as though nobody is supporting you, because us executives at Kreating Conversations care and want everyone to know there is hope."
Students interested in joining the Kreating Conversations community can sign up for their newsletter by emailing Kreatingconversationsunbsj@gmail.com to receive notice for upcoming events, follow their Instagram and Facebook pages to share stories and stay up to date with events or volunteer opportunities.
Media contact: Kathleen McLaughlin
Photo: Kaydie Surette