Bell Let's Talk announces funding for post-secondary student mental health
Author: UNB Newsroom
Posted on Jan 19, 2022
Category: UNB Fredericton , UNB Saint John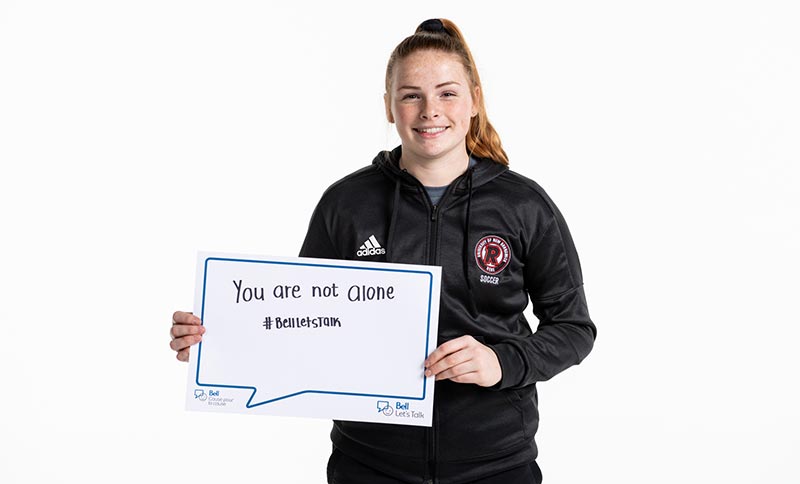 Bell Let's Talk has awarded $1 million in grants from the Bell Let's Talk Post-Secondary Fund to 16 Canadian colleges and universities, including the University of New Brunswick, to support them in initiatives that align with the National Standard of Canada for Mental Health and Well-Being for Post-Secondary Students.
UNB received a $100,000-implementation grant from the fund to develop new initiatives specializing in diversity wellness. Building on the work from last year, the funding from Bell Let's Talk will help UNB create more opportunities for engagement in positive mental health activities, such as providing a supportive, safe and inclusive learning environment for all.
"Bell's commitment to student mental health is an ongoing priority especially as students continue to be impacted by the effects of the pandemic," said Mary Deacon, chair of Bell Let's Talk. "We are proud to continue our support of post-secondary institutions' efforts to expand, enhance or establish programs that support student mental health and well-being and ultimately student success."
Last year, Bell Let's Talk launched a second phase of the Post-Secondary Fund for institutions that have used the National Standard to identify specific gaps or needs in mental health services and are building new initiatives to address them.
The National Standard, which provides a set of guidelines for post-secondary student mental health, helps increase awareness, reduce stigma, improve life and resiliency skills. Bell Let's Talk funding helped enable the creation of the National Standard, led by the Mental Health Commission of Canada in partnership with the Canadian Standards Association.
"We are very pleased to receive an implementation grant from the Bell Let's Talk Post-Secondary Fund to develop new initiatives specializing in diversity wellness," said Dr. Paul J. Mazerolle, president and vice-chancellor of UNB. "This will not only support Queer, Trans, Black, Indigenous, and People of Color students to identify and address needs for positive mental health, but it will also create wellness activities and ventures, evaluate and make recommendations for programming, and develop training resources for faculty and staff."
"Our students' voices are important to us and we recognize that a sense of belonging is a strong predictor of academic success and improved well-being for marginalized students," said Dr. Mazerolle.
Media contact: Kathleen McLaughlin