UNB student designs Every Child Matters display
Author: UNB Newsroom
Posted on Dec 16, 2021
Category: UNB Saint John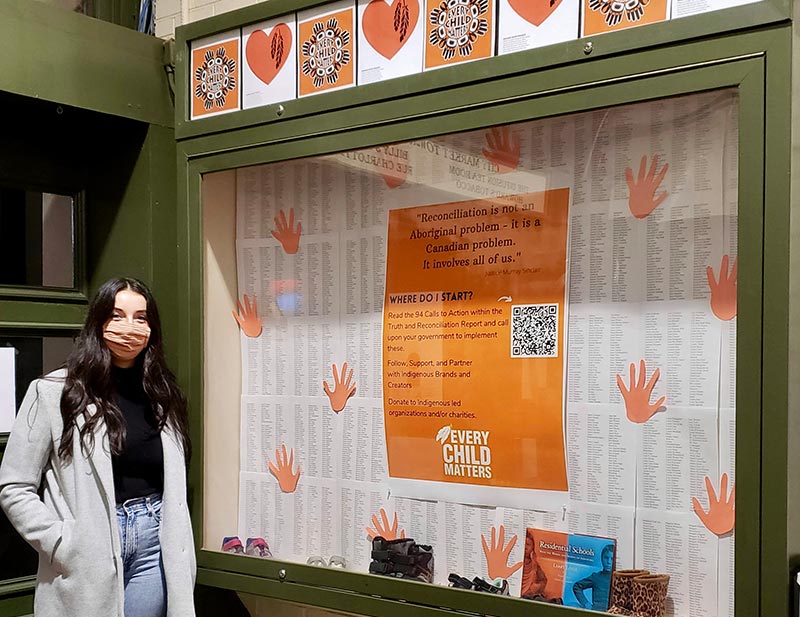 To support reconciliation, the Saint John City Market invited University of New Brunswick student Abby Bernard and UNB Saint John Indigenous Advisor Todd Ross to design a poster titled "Every Child Matters" featured in a glass display case on the north end of the market.
Bernard is currently in her fourth year of the bachelor of science program at UNB Saint John. Over the summer, Bernard and Ross discussed her interest in developing educational resources and supports for Indigenous students.
When the opportunity to create the display arose, Ross reached out to Bernard to develop the creative concept and design a poster that would honour the lives of children who never returned home from residential schools and the families whose lives have been forever changed.
"This project was very close to my heart as I am a second-generation residential school survivor," says Bernard. "My grandfather and his siblings attended the Shubenacadie Residential School in Nova Scotia. What they experienced during their time at the school has had a deep and lasting effect on our entire family."
A poster designed by Bernard is centred around the names of the thousands of children who never returned home. Children's shoes line the bottom of the display case to symbolize the lives of children lost.
The poster features a QR code that directs people to the Truth and Reconciliation Report and a quote from the Honourable Murray Sinclair stating, "Reconciliation is not an Aboriginal problem – it is a Canadian problem. It involves all of us."
Bernard is the niece of the late Canadian Mi'kmaw activist Nora Bernard, one of the founders of the Truth and Reconciliation Commission.
"My aunt's role is emblematic of my family's approach to the horrors of residential schools," says Bernard. "I feel a responsibility to help educate others and ensure that settlers and non-Indigenous people play an equal role in reconciliation."
"The City of Saint John is located on the unceded and unsurrendered ancestral homelands of the Wolastoqiyik and Mi'kmaq people," says Ross. "This display reminds those who walk by of our responsibility of reconciliation as well as to address the calls to action from the Truth and Reconciliation Report."
Media contact: Kathleen McLaughlin