UNB marks Remembrance Day through virtual storytelling
Author: UNB Newsroom
Posted on Nov 10, 2021
Category: UNB Saint John , UNB Fredericton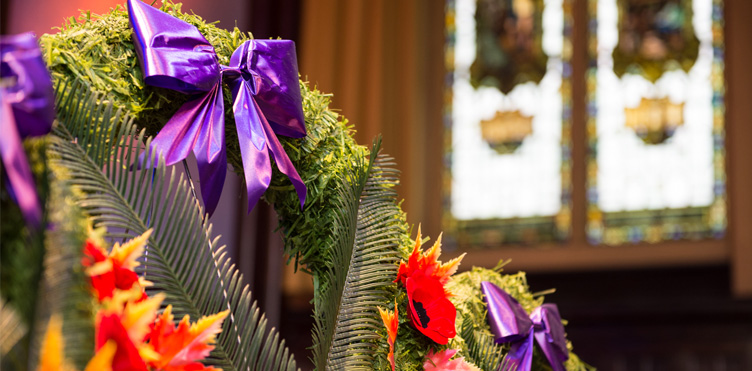 UNB Remembers commemorates the service and sacrifices of UNB members in wartime and beyond. It is a time when we come together to pause and reflect on the impact of war and to share a moment of silence for the sacrifices and service that members of the UNB community have made in war, past and present.
"At UNB, we are proud of our people – our students, faculty, staff and alumni – and we want to share their stories," says Dr. Paul J. Mazerolle, UNB president and vice-chancellor. "UNB Remembers is an important tradition that allows us to recognize the causes and consequences of war, while thinking about its impacts on the lives of people across the globe."
As part of the UNB Remembers tradition, UNB is sharing four unique stories that reflect on the impacts of war as told by members of the UNB community.
The stories will be shared on the UNB Remembers website and UNB institutional social media accounts.
Katelyn Stieva, a PhD history student shares a story of Black New Brunswickers' role in the First World War and in the development of our community histories by remembering the Howe brothers.
Todd Ross, Indigenous student advisor on the Saint John campus, tells the history of the 2SLGBTQIA+ purge in the Canadian Armed Forces.
Dr. Lee Windsor, the Fredrik S. Eaton Chair in Canadian Army Studies and deputy director of the Milton Gregg Centre for the Study of War and Society at UNB, remembers Lieutenant Roy Duplessis, a solider who fought alongside UNB's former president Milton Gregg.
We also reflect on the impacts of the War in Afghanistan with a profile of UNB alumnus Captain Mark Golder.
Members of the public and the UNB community are encouraged to take time to read and share these stories. Please join us as we remember those who have dedicated their lives to serve our country at UNB Remembers.
Media contact: Kathleen McLaughlin