UNB Seawolves reflect on the return to in-person athletics
Author: UNB Newsroom
Posted on Nov 26, 2021
Category: UNB Saint John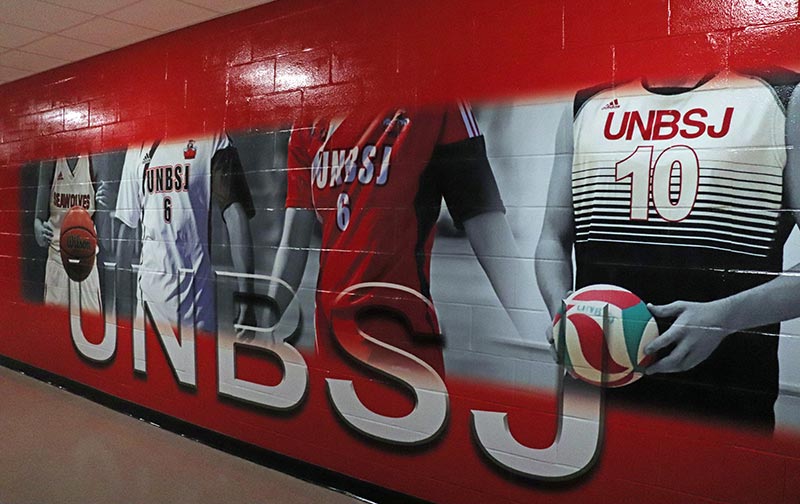 Among the many beloved activities that came to a halt during the COVID-19 pandemic, UNB varsity athletes had to hang up their jerseys and pause indefinitely.
Undergraduate students and UNB Saint John Seawolves Lexi Hawryluk and Karlee Duval are two of the many players excited to get back in the game with their teammates.
While games were cancelled, the Atlantic Collegiate Athletic Association and UNB permitted some training and practices on campuses for many teams. Throughout the 2020-21 season, third-year varsity basketball player and bachelor of nursing student Lexi Hawryluk took time to work on her individual strengths and realized the importance of team bonding.
"I have contributed to sports my whole life and basketball is a form of self-expression for me," says Hawryluk. "Last season when we couldn't play games, our team spent the majority of our time getting to know each other during practices and it made me realize the value of being together as a team outside of games."
"My team and I really value the connections we have when we're together, something that was easily overlooked before the pandemic," says Hawryluk. "We spend more time together off the court now. Overall, there is a lot of energy on the team and we're all very excited to be back."
The cancelled 2020-21 season allowed Duval, a fourth-year bachelor of health sciences student and varsity soccer player, time to focus on her health. During the 2019 season, Duval had suffered from a torn anterior cruciate ligament and in July 2021, she broke her shoulder.
"Our first regular season game back after COVID was particularly special for me," says Duval. "It was a long journey of recovery, but it was absolutely worth it. I scored my first goal since my injuries in the first game of the season."
Duval noted that she wasn't only the one excited to be back on the pitch. More fans turned out to cheer on the women's varsity soccer team during home games compared to previous seasons.
"I didn't realize how much I took being able to play the sport I love for granted," says Duval. "Playing for the Seawolves women's varsity soccer team has given me the opportunity to make lifelong friends."
Stream upcoming UNB Saint John Seawolves games on YouTube or live on ACAA TV powered by Sports Canada TV.
Media contact: Kathleen McLaughlin