Remembering the women of École Polytechnique and all victims of gender-based violence
Author: UNB Newsroom
Posted on Dec 1, 2021
Category: UNB Fredericton , UNB Saint John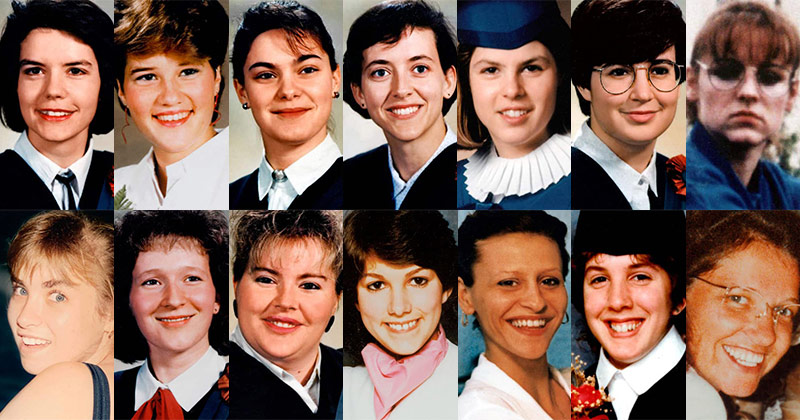 In recognition of the National Day of Remembrance and Action on Violence Against Women, UNB will hold events on Monday, Dec. 6, acknowledging the 32nd anniversary of the murder of 14 women in a senseless act of gender-based violence at École Polytechnique in Montréal.
We remember: Geneviève Bergeron; Hélène Colgan; Nathalie Croteau; Barbara Daigneault; Anne-Marie Edward; Maud Haviernick; Maryse Laganière; Maryse Leclair; Anne-Marie Lemay; Sonia Pelletier; Michèle Richard; Annie St-Arneault; Annie Turcotte; and Barbara Klucznik-Widajewicz.
"As a community, it is important for us to address societal challenges to build a more just and inclusive world," says Dr. Paul J. Mazerolle, president and vice-chancellor of UNB. "Events such as these provide an opportunity for our community to come together to elevate voices while fostering a culture of support."
This is a day to remember these women, their families and all those who were affected by this violent act. It also gives us an important opportunity to reflect on all victims of gender-based violence, including women, girls, LGBTQ2SIA+, gender-diverse people and to recognize that this violence continues today.
On the Fredericton campus, a ceremony will be held on Monday, Dec. 6, at 3 p.m. in Dineen Auditorium, Head Hall. Engineering students will read poems and 14 female engineering students will participate in a candle lighting ceremony, accompanied by pianist Sam Piekarski, a mechanical engineering student.
Speakers will include:
The Honourable Brenda L. Murphy, ONB, Lieutenant Governor of New Brunswick
Minister Jill Green, civil engineer and minister of the department of transportation and infrastructure, Government of New Brunswick
Dr. Kathy Wilson, acting vice-president academic (Fredericton)
Dr. Chris Diduch, dean of engineering
Cassie Pitchford, mechanical engineering student and president of the Diversity Within Engineering Society
Sheila Burt, acting associate director of the Muriel McQueen Fergusson Centre
Meranda McLaughlin, president of the Fergusson Foundation
Maggie Stothart, president of the Association of Professional Engineers and Geoscientists of New Brunswick
Andie Kroll, chemical engineering student
Julie Purinton, mechanical engineering student
In Uptown Saint John, the UNB Dec. 6 Volunteers' Committee, with support from the Students' Representative Council, will hold a vigil on Monday, Dec. 6, at 7 p.m. at the Diamond Jubilee Cruise Terminal.
Following the tribute to the 14 women who lost their lives, there will be presentations addressing contemporary issues pertaining to violence against women, concluding with a short vigil walk to the Three Sisters Lamp opposite the terminal and music by Jill Wong.
Confirmed speakers include:
Kelly Morrell, outreach worker from Saint John Domestic Violence Outreach
Julia Forgrave, executive director of Second Stage Safe Haven, Inc.
Mary Saulnier-Taylor, executive director of Coverdale Centre for Women, Inc.
Melissa Martin, executive director of Hestia House
Rahma Khanes, student from the Muslim community
Proof of COVID-19 vaccination or valid medical exemption will be required upon entry and masks must be worn at all times during both the ceremonies.
Please join us as we remember and reflect. Together, we can be part of the solution to end gender-based violence through education and by elevating the voices of survivors.
Media contact: Angie Deveau