Frank McKenna invests in UNB to transform New Brunswick's digital future
Author: UNB Newsroom
Posted on Sep 7, 2021
Category: UNB Saint John , UNB Fredericton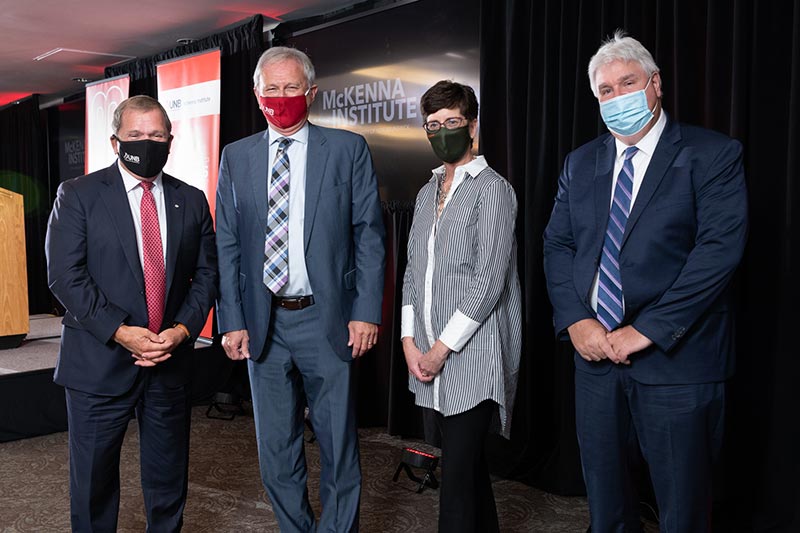 The Honourable Frank McKenna, PC, OC, ONB, has invested $5 million in the University of New Brunswick to establish the McKenna Institute to make New Brunswick, and Canada, digital trailblazers.
The McKenna Institute builds upon McKenna's life's work of moving New Brunswick to a knowledge economy based on bandwidth and brainwidth – the capacity to process information and complete tasks. In his three terms as New Brunswick's premier, McKenna was known for championing compelling and innovative ideas that encompassed both state-of-the-art technology and pride.
Now deputy chair of wholesale banking for TD Bank Group, McKenna has been recognized nationally for his outstanding efforts to propel the country forward, including an induction into the Canadian Business Hall of Fame. He also served as Canadian ambassador to the United States.
McKenna (LLB '74, LLD '88) announced the investment on Sept. 7 alongside UNB President and Vice-Chancellor Dr. Paul J. Mazerolle.
"New Brunswick is well-positioned to emerge as a major centre in our country's digital ascendency," says McKenna. "We just need to be bold and determined enough to seize the tremendous opportunity before us."
The McKenna Institute will serve as a catalyst and a connector for academia, industry and government to foster a globally competitive digital economy and society. It is rooted in driving a broad, multifaceted agenda for digital transformation while maintaining a strong outward gaze and seeking best practices.
In addition to his investment, McKenna will be leading a campaign to raise $50 million for the Institute to fulfil its mission of fuelling economic growth and social progress in New Brunswick through digital means.
"In 2021, more than ever, digital technologies offer a path to global relevance, prosperity and growth," says Dr. Mazerolle. "UNB will be a crucial player in feeding the emerging technology ecosystem. There is significant opportunity in front of us and, through the McKenna Institute, we can achieve this transformation."
The Institute resonates with UNB Toward 2030, the university's strategic plan which emphasizes responding to society's great challenges and creating the New Brunswick of tomorrow. Technology, data and computer science in particular are central to the plan. That strategic vision and the university's mission of service are in part why UNB was chosen for the collaboration.
UNB has played a central role in New Brunswick's long history of using technology to create opportunities, enhance competitiveness and drive social change. The university is home to the country's first standalone faculty of computer science and as Canada's most entrepreneurial university, UNB has served as a platform for some of the most successful technology in the province's history.
McKenna's ambitious vision was spurred by the COVID-19 pandemic and a lifelong dedication of propelling New Brunswick and its people forward.
"The pandemic ignited possibilities that have been smouldering for some time. New Brunswick is ready to seize them," says McKenna.
Through strategic research chairs, targeted training and employment initiatives, the McKenna Institute will nurture a workforce that's ready to lead the field.
Adrienne O'Pray (MBA '92) has been named the inaugural executive director of the Institute, leading innovation and engagement across disciplines.
"Bold visions require action. They need to be moved forward with expertise and innovative thinking," says Dr. Mazerolle. "Adrienne's dedication to progression and prosperity for our province is remarkable."
Media contact: Kelsey Pye