Celebrating a decade with the Hans W. Klohn Commons
Author: UNB Newsroom
Posted on Sep 7, 2021
Category: UNB Saint John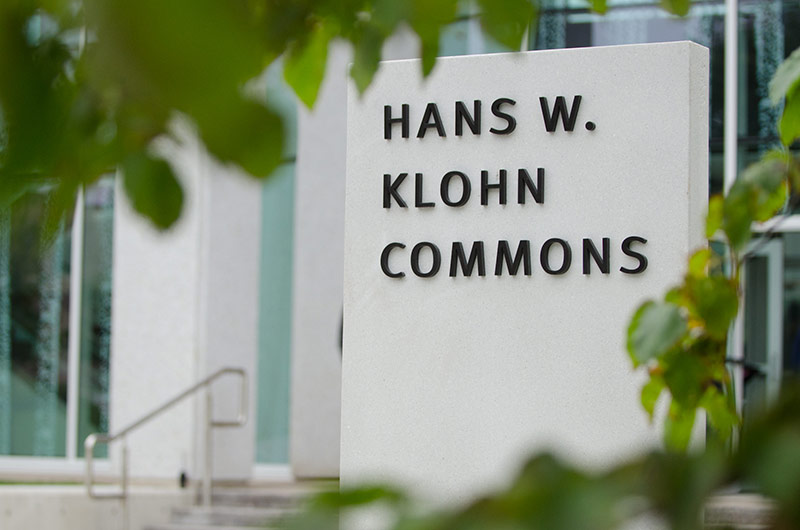 UNB is celebrating the 10th anniversary of the Hans W. Klohn Commons.
Ten years ago on Sept. 7, 2011, the University of New Brunswick opened its doors to a first-of-its-kind, eco-friendly, social space and library for students, faculty and visitors on the Saint John campus.
The Hans W. Klohn Commons, also referred to as the Commons, is a state-of-the-art building designed to provide the highest quality learning environment for community members. Since opening, it has been an integral part of UNB's Saint John campus and transformed the student life experience.
The Commons is a staple studying space for students from the New Brunswick Community College, Dalhousie Medicine New Brunswick and UNB. Students, staff and faculty all have access to the wide variety of amenities including a student technology centre, writing, math and statistics tutoring centres, classroom and conference rooms, and the commons café.
"The Hans W. Klohn Commons was one of the first future-forward and innovative spaces we built at UNB," says UNB President Dr. Paul J. Mazerolle. "This building has offered UNB Saint John so much over the past 10 years, most importantly, a beautiful and welcoming environment for our community."
The $25-million building was made possible through many generous donations from the community, alumni, faculty, staff, corporations and friends. Inside features a large mural painted by New Brunswick artist and UNB alumna Deanna Musgrave, seating areas that can be transformed into lecture halls in minutes and large windows filling the space with natural light.
The Commons was named in honour of the late Hans W. Klohn, a Saint John businessman well known for his contributions to the steel fabrication and construction industry in Atlantic Canada, New England and beyond.
The building was also UNB's first-ever green building and certified with a Leadership in Energy and Environment Design (LEED) rating of gold for its environmentally friendly features, such as an electric elevator that produces power for the Commons.
"The Saint John campus is very unique," says Dr. Petra Hauf, UNB's vice-president Saint John. "The Commons gives our community a place where they can go to not only experience high quality learning, but also a space to feel proud of."
Ten years later, the Hans W. Klohn Commons continues to provide the Saint John campus with an innovative space where students can come together, learn, share ideas or simply grab a coffee.
Media contact: Kathleen McLaughlin
Photo credit: Joy Cummings