UNB's Gregg Centre receives funding from Veterans Affairs Canada for research and education project
Author: UNB Newsroom
Posted on Jul 20, 2021
Category: UNB Fredericton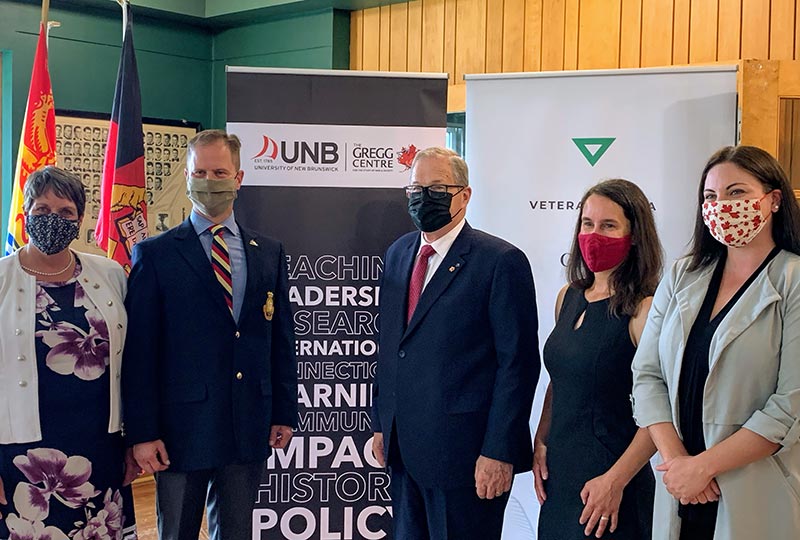 The Gregg Centre for the Study of War and Society has received $486,000 over three years from Veterans Affairs Canada to support a project which will capture the modern experience of the Canadian Armed Forces (CAF).
The funding was announced on July 20 at an event held at UNB Fredericton by the Honourable Lawrence MacAulay, Minister of Veterans Affairs and Associate Minister of National Defence, accompanied by Jenica Atwin, Member of Parliament for Fredericton.
"As Canadians, it's our duty to recognize and pay tribute to the brave individuals who have proudly served our country," says Minister MacAulay. "Regardless of their rank, or where their service took them, their story is our story. I'm pleased we are able to support the Gregg Centre's efforts in highlighting the modern-day Canadian war experience."
Established in 2006, the Gregg Centre is internationally recognized for its graduate programs, undergraduate and graduate teaching, public outreach, popular and scholarly publications, and its expertise in all aspects of modern military conflict. The new research and education project, titled "In Service of Canada: The Canadian Armed Forces Around the World Since 1949," will present an interactive learning platform featuring a variety of online activities, podcasts, and interviews with Canadian veterans.
"This new program spotlights the challenging, diverse, and complicated nature of modern military service performed by veterans who are still with us," says Dr. Cindy Brown, executive director of the Gregg Centre. "Our learning tools will benefit students and all Canadians interested in discovering more about CAF missions in every corner of the globe. We see the opportunity for new Canadians who arrived here from conflict zones to see their own experience in these modern missions."
Funding is provided through the Commemorative Partnership Program, which offers funding to organizations undertaking remembrance initiatives and supports projects that are designed to honour the contributions and sacrifice of those who have served.
"We are grateful to Veterans Affairs Canada for this funding which enables the Gregg Centre for the Study of War and Society to undertake work to share the modern experience of our veterans," says Dr. Paul J. Mazerolle, president and vice-chancellor of the University of New Brunswick. "As a result, stories of their contributions, service and sacrifice will be told in their own words. We are very excited to see this important project progress."
Media contact: Kelsey Pye
Photo: (L-R) Karen Cunningham, UNB vice-president administration and finance, Dr. Lee Windsor, deputy director of the Gregg Centre, the Honourable Lawrence MacAulay, Minister of Veterans Affairs and Associate Minister of National Defence, Dr. Cindy Brown, executive director of the Gregg Centre, and Jenica Atwin, Member of Parliament for Fredericton. Credit: UNB