UNB's J Herbert Smith Centre announces winners of 2021 RBC Student Pitch Competition
Author: UNB Newsroom
Posted on Apr 1, 2021
Category: UNB Fredericton , myUNB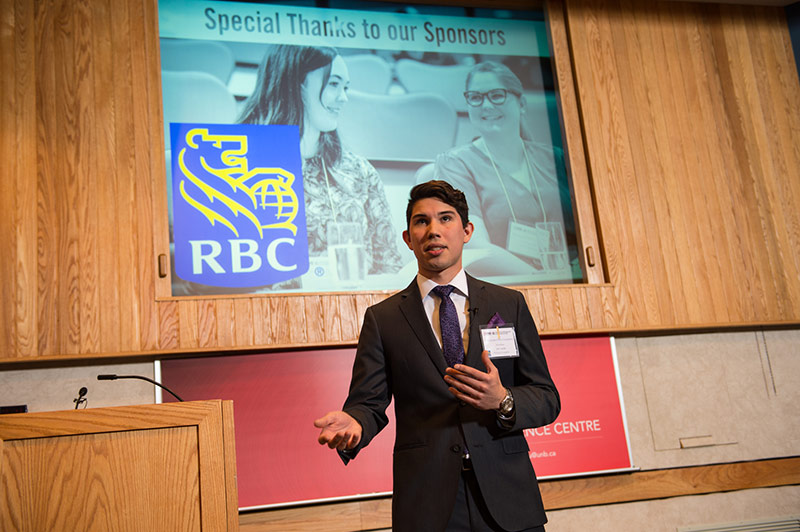 The University of New Brunswick's J Herbert Smith Centre for Technology Management and Entrepreneurship has announced the winners of its 15th annual RBC Student Pitch Competition, which took place virtually on March 24.
During the event, the top 32 finalists had three minutes to present their unaided pitch to a panel of judges. Winners were selected based on innovation impact, viability and sustainability of the idea; presentation, enthusiasm and effectiveness of pitch; and the level of engagement during both the pitch and the question-and-answer period.
There were 13 prizes given out, amounting to a total of $8,600. First place in the Ideas category, the Harold H. Bulmer Memorial Award, which comes with a $1,000 prize, went to Noubahar Hasnain, business administration student on the UNB Fredericton campus. She pitched an ethical, affordable and fashionable clothing brand named New Spring Designs.
The first place $1,000 winner in the Growth category was Irtiza Khan, a UNB Fredericton engineering student representing Tutor on Time, an online, on-demand tutoring platform that is already seeing traction in the Fredericton region.
After transitioning in 2020 to a virtual event, this year's competition, hosted by UNB's J Herbert Smith Centre in partnership with RBC, was opened up to students worldwide. Participants applied to compete in one of two categories: "Ideas" for newly formed concepts and "Growth" for early stage entrepreneurs interested in growing their business.
"After 15 years, our pitch competition continues to showcase the student talent within UNB and now educational institutions around the world, reinforcing our commitment to highlighting and nurturing today's most forward-thinking entrepreneurs," said Rachel Clarke, J Herbert Smith Centre's program coordinator. "We're thrilled to be able to offer, with the support of our partner, RBC, and local sponsors the New Brunswick Investment Fund, New Brunswick Financial and Consumer Services Commission, UNB's International Business and Entrepreneurship Centre, Venn Innovation and Cox & Palmer, recognition for each of this year's talented winners as they continue their entrepreneurial journey."
Additional award recipients include:
Growth category
Second place: Piketa Systems, Maxime Dumont, Xavier Hebert-Couturier, Dominic Levesque, Zachary Andersen
Third place: Outseek, Greg Kean, Dylan Hubble, Paul Walsh
FCNB Global First: Neos HealthTech, Avnish Parekh
VENN Global Second: Drastic Scholastic Thermoplastic (DST), Adam Starr
Cox & Palmer Global Third: Maque, Jenny Bicong Ge
Ideas category
Second place: Uni-Bin, Aslynne Schriver; and Communus, Jharana Luitel, Bhavya Pratap Malhotra, Haridas Patel
NBIF Global First: The Story Box, Anamika Saxena
Communication award: Dinnerbell, Matt White, Matthew Ford, Thomas Gogan, Alex Smith
Innovation award: River Safety Systems, Aven Chiam Li-Khern, Darien Edison, Hussein Akar, James Duffley
Impact award: Virtual Reality in Recruitment, Darshna Makhecha
As part of the event, the J Herbert Smith Centre took the opportunity to present community awards, recognizing leaders within the local entrepreneurial ecosystem. Dr. Jonathan Calof, professor of international business and strategy at the Telfer School of Management at the University of Ottawa and honorary adjunct professor at UNB's J Herbert Smith Centre, was recognized as Community Leader of the Year for his many contributions to the accelerator and academic programs offered through the centre. Educator of the Year was awarded to Dr. Sushil Chaurasia, postdoctoral fellow at the J Herbert Smith Centre, and Student of the Year went to Amy Andrews, co-founder and CEO of Lifetrack Safety Systems Ltd. and Oluwatosin Ajibola, co-founder and CEO of Welkom-U Inc., both former UNB MTME students and leaders within the local community.
Media contact: Angie Deveau
Photo credit: Cameron Fitch, 2018