UNB launches innovative program aimed at provincial health care reform
Author: UNB Newsroom
Posted on Aug 26, 2020
Category: UNB Saint John , myUNB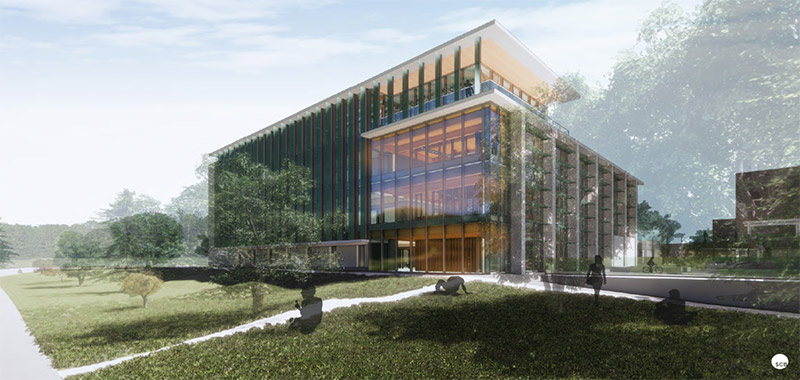 Well before the COVID-19 pandemic, the University of New Brunswick was developing an ambitious plan to help address the most challenging and important issue facing New Brunswick and Canada – the delivery of effective, efficient and sustainable health care.
UNB's Integrated Health Initiative (IHI) is a program focused on health education and research, coupled with social innovation and greater collaboration, and its aim is to achieve systemic health care reform in New Brunswick and Canada.
This multi-faceted program will be launched on UNB's Saint John campus in September with the introduction of a new Bachelor of Health degree. With enrolment already exceeding targets, the Bachelor of Health is simply the first successful stage in a robust and meticulously considered program.
A complementary extracurricular certificate in health, as well as Master in Business Administration in Health Management and a Master of Health in Public Policy will follow. Increased enrolment when all the programs are established is expected to reach 500 over the next few years.
Each of these programs will be characterized by a unique interdisciplinary approach, organized and supported by UNB Saint John's three faculties, bringing together biomedical sciences, social sciences and business education for undergraduate and graduate students; a focus on reforming health care for the people of New Brunswick and Canada; and meaningful collaboration with partners, including Dalhousie Medicine New Brunswick, Horizon Health Network, the Saint John Regional Hospital and New Brunswick Community College.
Students and researchers will be encouraged to build close connections with the existing strengths of UNB Fredericton such as the Institute for Research and Data Training; the Institute of Biomedical Engineering; the Faculty of Kinesiology; the Psychological Wellness Centre; and the Pond-Deshpande Centre.
"These programs will educate bold thinkers to drive excellence and innovation, to implement ground-breaking solutions, and to lead systemic reforms," says UNB President and Vice-Chancellor Paul J. Mazerolle. Researchers will be clustered in teams in an effort to make cutting-edge discoveries in technology, systems and policies while addressing issues of public concern, providing students with the opportunities to spearhead new developments in the health sector.
"The IHI is a prime example of UNB's mission in action," says Dr. Mazerolle. "We aim to inspire and educate people to become problem solvers and leaders in the world, to undertake research that addresses societal and scientific challenges, and to engage with partners to build a more just, sustainable and inclusive world."
Five new research chairs will be created, with their teaching and research expected to focus on health policy, health management, digital health, aging in the community and child rights and health.
Other components of the IHI include technical and social innovation, building on UNB's strength as Canada's most entrepreneurial university and its proven track record with initiatives such as the Promise Partnership, the tutoring and mentoring program for economically disadvantaged children in Saint John's priority neighbourhoods.
In a province where economic productivity, health outcomes and health services have been deeply impacted by social conditions such as poverty, illiteracy and substance dependency, finding effective ways to address these issues is a necessity. That is why UNB has made fostering social science research, business development and community engagement a special focus of the IHI.
"Our long-term goal is to make Saint John an international centre of excellence with UNB at its heart, leading the way in health and social innovation, a powerful magnet for motivated students, highly qualified faculty and world-class researchers," said Dr. Petra Hauf, vice-president of the Saint John campus, who is leading the IHI.
A cornerstone of the IHI is the construction of the Health and Social Innovation Centre, a 65,000-square-foot, three-and-a-half story building that will house the activities of the IHI. The facility will take the place of the former Ward Chipman Library which has not been in use since the Hans W. Klohn Commons was completed in 2011. Full realization of the IHI is dependent on having the state-of-the-art space needed for teaching, research and service to the community. Funding is currently being sought for the $38-million structure.
The IHI is designed to help build a health care system that is responsive to the needs of families and communities, adaptable to evolving health care practices, and affordable for governments and taxpayers. The current pandemic only serves to underline the importance of these outcomes to New Brunswick and its citizens.
Those interested in learning more about the program may contact Susan Montague for more information.
Media contact: Sonya Gilks
Photo: The rendering of the proposed Health and Social Innovation Centre, to be situated on UNB's Saint John campus. Credit: Bryan Irwin, SCB