UNB unveils sculpture by award-winning artist Peter Powning
Author: UNB Newsroom
Posted on Nov 22, 2019
Category: UNB Fredericton , myUNB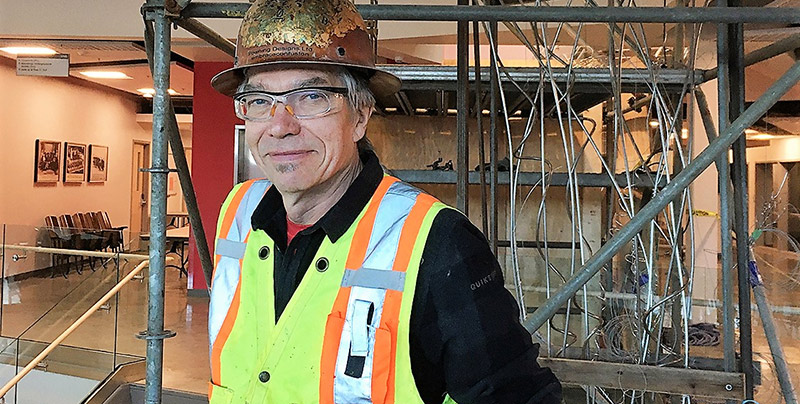 The University of New Brunswick unveiled Trace, a sculpture by renowned New Brunswick artist Peter Powning, on Nov. 22. The sculpture will be housed in the Kinesiology Building on the UNB Fredericton campus.
Commissioned by the UNB Art for New Spaces Committee, Trace stands 24 feet tall and spans the first two levels of the Kinesiology Building with various aspects of the sculpture being visible from all three levels.
Taking inspiration from kinesiology and motion tracking systems, Mr. Powning used silicon bronze, 316 stainless steel, aluminum and slumped glass to reflect or refract light to animate the space.
"My design idea was to visualize motion being traced in three dimensions," says Mr. Powning. "A network of bent rods represents interdependent movement rising from a central originating locus. The sculpture gives viewers a sense of motion and complexity within the static rectilinear architectural space."
In July 2019, Mr. Powning invited kinesiology students, faculty and staff to participate in the creation ofTrace by bringing forth a variety of kinesiology research tools, recreation and athletics items that he could cast and incorporate into the sculpture. Trace includes approximately 40 bronze cast items that represent the faculty of kinesiology.
"As we intended when it was established, the Art for New Spaces program has contributed significantly to the aesthetic environment of the University," says Dr. John McLaughlin, UNB president emeritus. "It is important for our students, faculty and staff to experience creativity and beauty where they learn, teach and work. It is also important to support and showcase the work of New Brunswick artists. Art for New Spaces accomplishes all these goals."
Peter Powning has lived and worked as an artist in Sussex, N.B., since 1970. Although he began his career in pottery, Mr. Powning has become a multi-media artist using bronze, glass, and steel that he skillfully manipulates into a single work of art.
Mr. Powning's significant body of award-winning work is shown internationally and is held in private and public collections. His artwork varies in scale from small decorative objects to large sculptural installations. He has designed and produced more than sixteen public commissions.
Over the last 50 years, Mr. Powning has developed an extensive resume of awards, grants and accolades, including the Lieutenant Governor's Award in 2017 and an honorary doctorate from UNB in 2014.
The UNB Art for New Spaces program was established in 2008 funded by a bequest from alumnus J. William Andrews. The program commissions New Brunswick artists to create artwork that contributes to the aesthetic environment and architectural impact of new or renovated buildings utilized primarily by students.
Previous Art for New Spaces program commissions include a large mural entitled "Cloud" by Deanna Musgrave for the Hans W. Klohn Commons on UNB Saint John campus and a painting, "The Hill," by Glenn Priestley for the C.C. Jones Student Services Centre at UNB Fredericton. Art for New Spaces also contributed to the recreation of the Fred Ross mural, "The Destruction of War and Rebuilding the World Through Education," in the Richard J. CURRIE CENTER, UNB Fredericton.
Media contact: Kelsey Pye