UNB to host annual remembrance ceremony
Author: UNB Newsroom
Posted on Nov 8, 2019
Category: UNB Saint John , myUNB , UNB Fredericton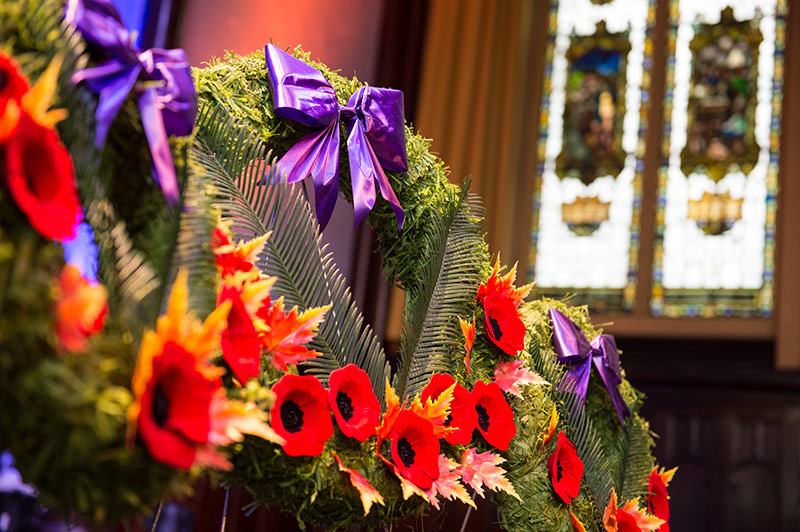 The University of New Brunswick will reflect on the toll of war as it hosts its annual UNB Remembers ceremony.
UNB Remembers will be held on Friday, Nov. 8, beginning at 11:30 a.m. in the Memorial Hall auditorium at UNB Fredericton.
Now in its seventh year, the ceremony will bring the university community together to pause and reflect on the toll of war, to remember those who served and the sacrifices they made, and to mark the contributions made by the UNB community.
"The UNB Remembers ceremony began in 2013 when my colleagues and I in the faculty of education, realized that UNB didn't have a way for us to gather as a community," explains Dr. Sarah King, director of experiential education and a founding member of the UNB Remembers committee.
"The ceremony is built for our university community to gather in reflection about the causes and consequences of war and to think about its impacts in a way that is consistent with the academic purpose at the centre of our community. Our ceremony has grown each year and I'm proud to be a part of the group that offers this opportunity to a community that has been so important to me."
During this year's commemoration, biographies of UNB alumni Charles E. Kingdon Jones, BA, ('12) who lost his life during the First World War, and Lieutenant Donald W. Moffett ('42) who was killed during the Second World War, will be read.
UNB Remembers will include reflections by the family of Jim Morell, a prominent Frederictonian, who fought during the Second World War before going on to make significant contributions to his community. Letters he sent home during his time at the front will be read by current students whilst members of his family will offer reflections on his connections to UNB and the Fredericton community.
UNB's student advocate Wilfred Langmaid will lead the Act of Remembrance which will be followed by the Last Post, a piper's lament and a two-minute silence.
All members of the public and the UNB community are welcome to attend. The ceremony will be livestreamed at UNB Remembers and on the UNB Facebook page. Those on the Saint John campus are invited to gather in Hazen Hall 225 to watch the livestream.