UNB researchers launch art-based study on the health of seniors
Author: UNB Newsroom
Posted on Nov 15, 2019
Category: myUNB , UNB Saint John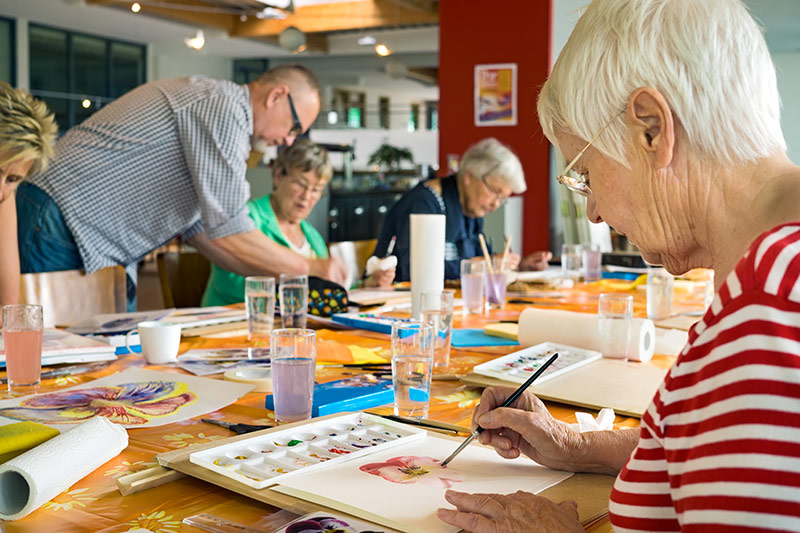 Researchers from the faculty of business at the University of New Brunswick in Saint John are seeking participants for a study that will examine the impact of creative activities on the health and well-being of older adults and their communities.
For this study, UNB has partnered with Art4Life Inc., a for-profit social enterprise committed to maintaining and improving the health and well-being of seniors through art.
This arts-based health research project has been approved and funded under the Healthy Seniors Pilot Project by the Government of New Brunswick and is supported by the mayors of Saint John, Rothesay and Grand Bay-Westfield.
Drawing from the Creativity and Aging Study: The Impact of Professionally Conducted Cultural Programs on Older Adults (2006), the study posits that art programs positively impact physical and mental health, both of which have policy implication.
Drs. Greg Fleet and Barry Watson, associate professors at UNB Saint John's faculty of business, will supervise the collection and analysis of the data. Dr. Alekhya Das, UNB Fredericton alumnus and research associate at Art4Life, will provide the qualitative analysis. Stephanie Maguire, a UNB Saint John graduate, has been hired by UNB as a research assistant for the project. Anita Punamiya, project coordinator, is also a UNB graduate and instructor at UNB Saint John's faculty of business. She is also the founder and CEO of Art4Life Inc.
"Not only are arts-based programs known to increase overall wellness, but they also help reduce the burden on health care systems," says Ms. Punamiya. "Participants in the Creativity and Aging study reported fewer doctor visits and less medication usage. Through our study, we expect to emulate these same results."
"Arts-based programs help participants learn new skills, discover new aspects of their selves and find new ways to express and perceive the world," she adds.
Participants in the study will attend two-hour weekly sessions facilitated by local artists. Session activities will include drawing, painting, collage, clay-work, performance, sculpting, among others. All activities are free for seniors participating in the research project.
Interested participants from Rothesay, Grand Bay-Westfield and Saint John who are over the age of 65 are encouraged to register through Art4Life or by calling (506) 639-8275. The registration deadline is Saturday, Nov. 30.
Media contact: Angie Deveau
Photo: Shutterstock