UNB's FutureNB Gala winners announced
Author: UNB Newsroom
Posted on Nov 15, 2019
Category: myUNB , UNB Saint John , UNB Fredericton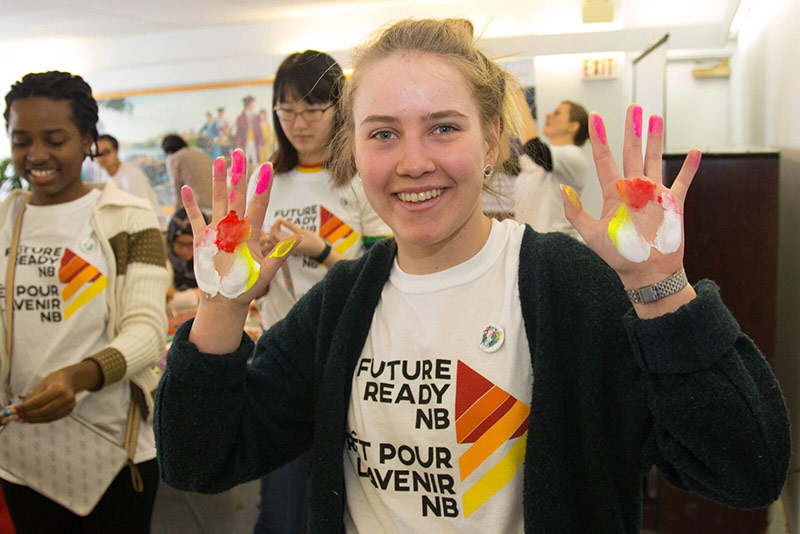 The University of New Brunswick would like to congratulate students, educators and partners who received awards at the 2019 FutureNB (FNB) gala.
Winners were announced during the gala on Tuesday, Nov. 12, at the Delta Beauséjour Moncton. The gala was held in conjunction with the Chamber of Commerce for Greater Moncton's Workforce Summit 2020 event.
Hosted by RBC, the FNB gala recognized university students, employers, community partners and finalists who successfully participated in and promoted experiential education opportunities that respond to the needs of New Brunswick's evolving labour market, and enhanced students' academic learning with opportunities to engage in authentic experiences in and out of the classroom.
UNB partner winners include: Planet Hatch, who mentored three co-op students from UNB Fredericton's faculty of management in the summer of 2018 through their Sales Accelerator program; TimberTop Adventures, who provided opportunities for students to engage in hands-on experience building and delivering marketing plans and programs; and Malley Industries, whose in-class involvement with the faculty of management saw students working in teams to solve real-life organizational challenges, while being mentored by senior leadership at Malley Industries.
Dr. Martin Wielemaker, associate dean (strategic initiatives) and associate professor at UNB Fredericton's faculty of management, won the faculty award for his leadership in the faculty's move to provide an experiential curriculum throughout the program, and his teaching in their strategic management course, which engages students with organizations to solve complex problems for external partners.
UNB students Kathleen MacNeil and Jessica Cook won the FRNB student excellence awards for their experiences during their clinical placement at the Portage Atlantic youth drug addiction rehabilitation facility.
The Future Wabanaki excellence award for UNB was given to Tiffani Fazio for her work with the Nisuhsane project, which partners Indigenous students in UNB's Bridging Year program with upper-level students to help increase their sense of belonging at the university through culturally relevant and supportive mentorship.
Dr. Sarah King, director of UNB's Office of Experiential Education, congratulated all of UNB's winners.
"Having so many of UNB's faculty, students, staff and partners recognized as nominees and winners of the first-ever FutureNB awards reflects our long-standing commitment to experiential learning. We are thrilled to partner with FutureNB to provide even more opportunities to enhance student learning and engagement by providing experiential learning opportunities that challenge students to apply their academic skills in new contexts".
Media contact: Angie Deveau
Photo credit: FutureNB