Poet Shane Neilson and authors Danny Jacobs and Kirby to read as part of UNB Saint John's Lorenzo Reading Series
Author: UNB Newsroom
Posted on Oct 2, 2019
Category: UNB Saint John , myUNB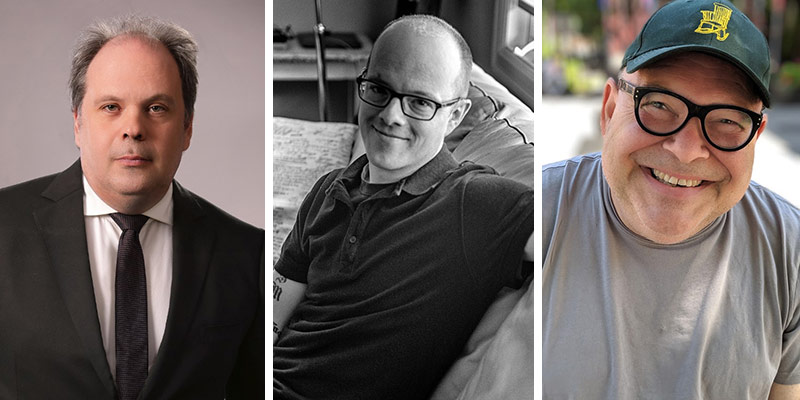 Poet Shane Neilson and authors Danny Jacobs and Kirby will read from New Brunswick, Sourcebooks for Our Drawings and THIS IS WHERE I GET OFF respectively on Monday, Oct. 7, as part of the Lorenzo Reading Series.
Heralding a new regionalism, New Brunswick interrogates the popular representations of Shane Neilson's home province. Structured as a group of serial long poems, this fifth book by the winner of the 2017 Walrus Poetry Prize recasts the political, economic, and social histories of settler New Brunswick, particularly as they relate to the sacrifices of his parents.
Mr. Neilson is a poet, physician and critic. He completed his PhD in English and Cultural Studies at McMaster University in 2018. His latest book, New Brunswick, was just published by Biblioasis in the spring of 2019. His previous book, Dysphoria, was awarded the Hamilton Literary Award for Poetry in 2018. He is currently completing a postdoctoral position at McMaster as part of the $50,000 'Talent' grant awarded by SSHRC in 2018. Mr. Neilson will publish Constructive Negativity, the first book of literary criticism devoted to disability in Canada, also this year. He is the festival director of the AbleHamilton Poetry Festival which is solidifying plans for the next iteration in 2019.
Sourcebooks for Our Drawings by Danny Jacobs is a book steeped in place: the rural idyll of a southeastern New Brunswick farmhouse, the author's childhood suburbia, and the commercial sprawl of contemporary Atlantic Canada. Each piece provides a snapshot of New Brunswick in the late 20th and early 21st centuries, a place at once unique and startlingly not-so in our globalized word.
Mr. Jacobs' poems, reviews, and essays have been published in a variety of journals across Canada, including The Malahat Review, Grain, The Walrus, PRISM International, Hazlitt, and Hamilton Arts & Letters, among others. Mr. Jacobs won PRISM International's 2015 Creative Nonfiction Contest and The Malahat Review's 2016 P. K. Page Founders' Award. His essay "Rooms" was shortlisted for The Malahat Review's 2018 Constance Rooke Creative Nonfiction Prize. His first book of poetry, Songs That Remind Us of Factories, was shortlisted for the 2014 Acorn-Plantos Award for People's Poetry. His latest book, Sourcebooks for Our Drawings: Essays and Remnants, is a collection of lyrical essays and creative nonfiction.
Think of a heart-racing first date at a 5-star restaurant the back door of which opens into a steamy alley, loaded with Allen Ginsberg's "saintly motorcyclists" and Kirby's "bevy of bears," and this is the astonishing new poetry collection, THIS IS WHERE I GET OFF, double meaning intended and perfectly executed throughout.
Kirby's earlier chapbooks include Simple Enough, Bob's boy, and SHE'S HAVING A DORIS DAY. They also appear in Matrix Magazine, National Poetry Month.ca, Dusie, Canthius, Carousel, Burning House, and The Rusty Toque (Pushcart Nominee). Their full-length debut, THIS IS WHERE I GET OFF, is newly out from Permanent Sleep Press. Kirby is the owner/publisher of knife | fork | book Toronto.
Shane Neilson, Danny Jacobs and Kirby will read from their works on Monday, Oct. 7, at 7 p.m. at UNB's Beaverbrook House, 127 Carleton St. All are welcome to attend.
The Lorenzo Reading Series acknowledges the support of The League of Canadian Poets, UNB Saint John, UNB Saint John Bookstore, and its private reading sponsors.
For more information contact Andrea Kikuchi at (506) 648-5782 or email lorenzo@unb.ca.
Photo credits: Shane Neilson – Portraits by Mina; Danny Jacobs – Frederic Gayer; Kirby – Bobby Theodore