UNB prof working to improve the health of New Brunswickers
Author: UNB Newsroom
Posted on Sep 24, 2019
Category: UNB Fredericton , myUNB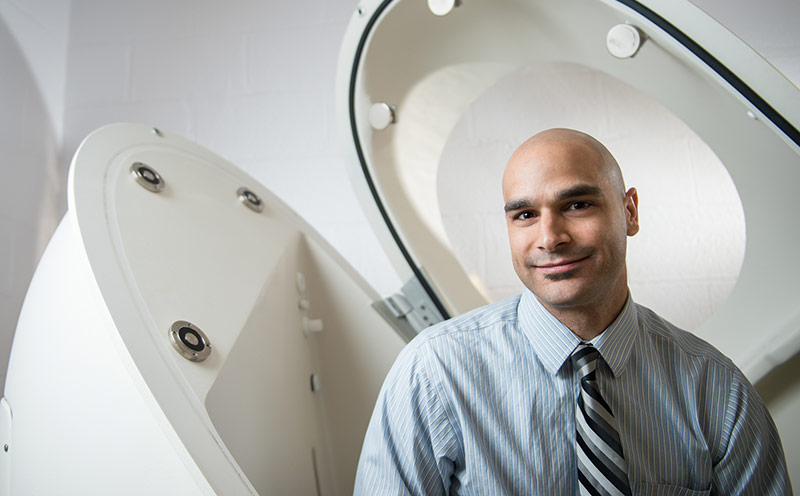 A University of New Brunswick researcher is working on a clinical trial that uses exercise as a healthcare intervention.
Dr. Martin Sénéchal, an associate professor in the faculty of kinesiology in Fredericton, wants to provide physicians with resources to help their patients struggling with obesity and diabetes.
"It doesn't make sense to say that you'll lose weight with exercise because not everyone has the same response to exercise," says Dr. Sénéchal. "It's like prescribing medication without knowing what's causing the issue in the first place."
The goal of Dr. Sénéchal's research is to figure out how to make someone a high responder to exercise by altering different parameters. This can include changing the intensity of the exercise or examining the metabolic flexibility and the hormone irisin.
Irisin is known as the exercise hormone and it is released by blood to break down fat. Dr. Sénéchal and his group showed that with exercise, more irisin is released, and this release appears to improve diabetes in children living with obesity. What is still unclear is whether changing exercise parameters, such as intensity or duration in non-responders, will benefit them. If so, how is this happening? This is really what Dr. Sénéchal's research group is focused on. The results will help to tailor the exercise parameters that need to change in order to make someone a high responder to exercise.
According to Dr. Sénéchal, this type of research not only offers a more personalized medicinal approach with tailored exercise prescriptions, but it also provides more information about exercise and how it can enhance New Brunswickers' health.
"I definitely see value in collaborating with family physicians," says Dr. Sénéchal. "Since people generally respond well to advice from their physicians, I want to develop information packages for doctors on exercise prescription.
"Exercise is the most powerful medicine we have since there are almost no harmful side effects, but the important thing is to have the right prescription," he says.
Although Dr. Sénéchal is not the only person doing this type of research, he is answering new research questions. Having a facility with gold-standard equipment gives UNB a competitive edge in this field and it's attracting a lot of attention from outside of the country.
Dr. Sénéchal has received funding from the New Brunswick Health Research Foundation, the Heart and Stroke Foundation New Brunswick and the University Research Fund, to name few and. Recently, Dr. Sénéchal was also awarded money from the Canadian Fund for Innovation for his innovative research in the field of preventive medicine.
"Our group his performing strong research, with a strong design, and it's going to change the way people look at exercise," he says.
Dr. Sénéchal will be presenting on his work during the UNB Research Showcase on Friday, Sept. 27, from 1 to 2 p.m. in Memorial Hall, UNB Fredericton.
Media contact: Angie Deveau
Photo credit: Rob Blanchard/Photo UNB