Triplets receive UNB entrance scholarships
Author: UNB Newsroom
Posted on Sep 17, 2019
Category: myUNB , UNB Fredericton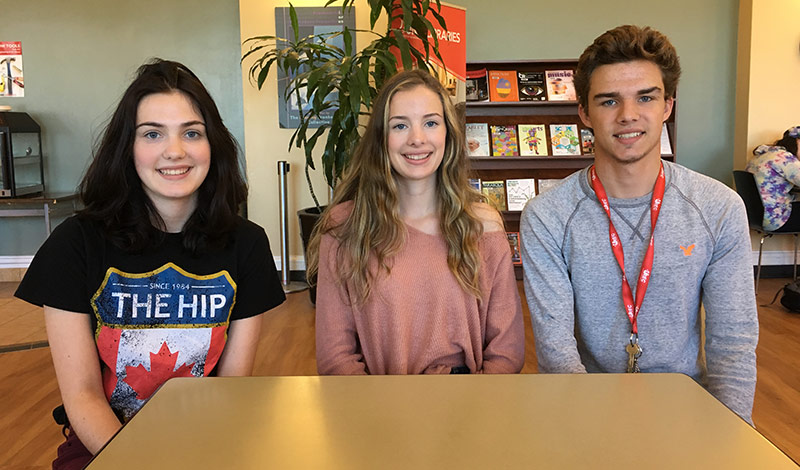 As the dust settles after a busy and exciting University of New Brunswick orientation week, the Wiley triplets are adapting to their new lives on the Fredericton campus.
While Isabel, Justin and Elizabeth Wiley are triplets, they each have very separate interests. Isabel is entering the bachelor of science program, with an interest in biology; Justin is a bachelor of business administration student interested in marketing and finance; and Elizabeth is beginning her bachelor of arts, hoping to specialize in archaeology.
To top it off, the Wiley triplets are all recipients of various entrance scholarships at UNB. Isabel received the William and Lois Paine Founder's Scholarship; Justin received the Michael J. Millie Scholarship and the William and Lois Paine Founder's Scholarship; and Elizabeth received the J.K. Flemming Scholarship and the Andrew and Marjorie McCain Scholarship.
Originally from Divide, N.B., all attended high school in the Florenceville-Bristol area. Both of their parents attended UNB. Their father, Blake Wiley, graduated from UNB's bachelor of business administration program in 1988 and their mother, Colleen Wiley, graduated with her bachelor of education in 1988 and her master of education in 1998. They also have various other family members who have attended UNB.
"UNB was a perfect choice for me because it's close enough that I can go home on the weekends, but also far enough, that I feel independent," says Elizabeth.
Given that this is the first time they are living away from home, the triplets have welcomed the opportunity to live on campus.
"Our residence experience has been great so far and has provided us with plenty of opportunities to meet new friends," says Isabel.
Additionally, all three said that UNB's orientation week activities, such as Blast Off and Commencement, made them feel welcome.
"Commencement was great, because it helped me understand more about the university and the expectations I'll face over the next four years," says Justin.
Media contact: Angie Deveau
Photo: UNB students Elizabeth, Isabel and Justin Wiley. Credit: Angie Deveau.