UNB receives federal funding for innovative research in cannabis, obesity
Author: UNB Newsroom
Posted on Aug 12, 2019
Category: myUNB , UNB Fredericton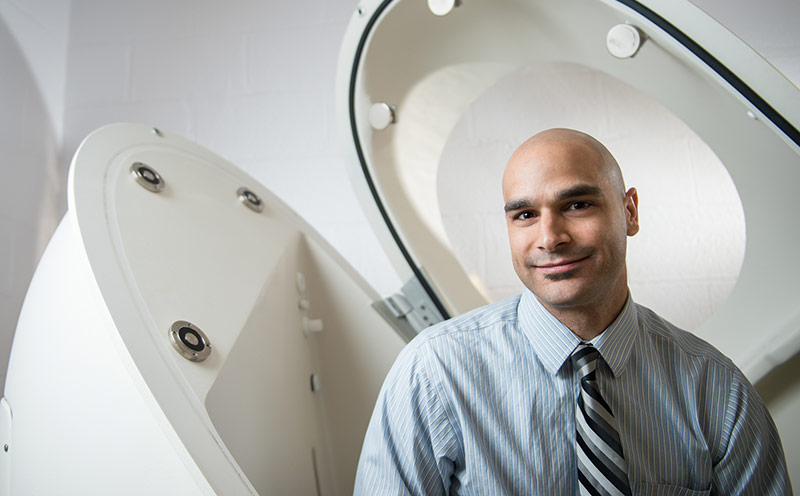 Two researchers at the University of New Brunswick are receiving funding totaling $200,000 from the Canada Foundation for Innovation's John R. Evans Leaders Fund (JELF) for their cutting-edge studies.
Dr. Martin Sénéchal, an associate professor in kinesiology, and Dr. Yang Qu, an assistant professor in chemistry and chemical engineering and UNB's Cannabis Health Research Chair, were announced as two of the 261 recipients at 40 universities across Canada. The Honourable Kirsty Duncan, Minister of Science and Sport, announced the $61-million investment at the University of Alberta.
Dr. Sénéchal will lead a research group to improve understanding of how exercise can be used to prevent and treat obesity and diabetes. Worldwide, rates of these chronic diseases have drastically increased in the past few decades. New Brunswick has one of the highest rates of chronic conditions in Canada.
"Although this situation brings with it many socioeconomic issues for our province, it does provide an ideal time and location to conduct our research activities," says Dr. Sénéchal. "As more people develop these two chronic diseases, it becomes important to understand how to improve their quality of life as they age."
Dr. Qu will explore new opportunities in advancing the Canadian cannabis industry and seek discoveries to ensure Canada's spot as the leader in cannabis research.
"Cannabis is being rapidly transformed from an underground species into to an industrial crop that awaits medical and agricultural development," says Dr. Qu. "Canada is the only developed country where both medicinal and recreational cannabis use is legal and as the Canadian cannabis industry evolves, the long-term sustainability and profitability of the industry will depend on innovative research."
"Researchers in Canada know that cutting-edge tools and labs are necessary to make discoveries and innovate," says Ms. Duncan. "That is why our government is announcing funding for the infrastructure needs of Canadian researchers. Their ground-breaking contributions to science and research have an enormous impact on the breakthroughs that help make our visions for a better future a reality."
JELF provides exceptional researchers from Canadian institutions with funding and the foundational research infrastructure to undertake cutting-edge studies in their field.
"Dr. Sénéchal and Dr. Qu are leading projects that will play an integral role in strengthening our province – the physical wellbeing of our citizens, New Brunswick's economic health, and the competitive nature of UNB's research activities," says Dr. David MaGee, UNB vice-president research. "This funding allows them to continue their excellent work and make our communities better."
Media contact: Kelsey Pye
Photo credit: Dr. Martin Sénéchal by Rob Blanchard/UNB; Dr. Yang Qu by Cameron Fitch/UNB.