UNB research lab receives federal funding for spruce budworm study
Author: UNB Newsroom
Posted on Jul 11, 2019
Category: UNB Saint John , myUNB , UNB Fredericton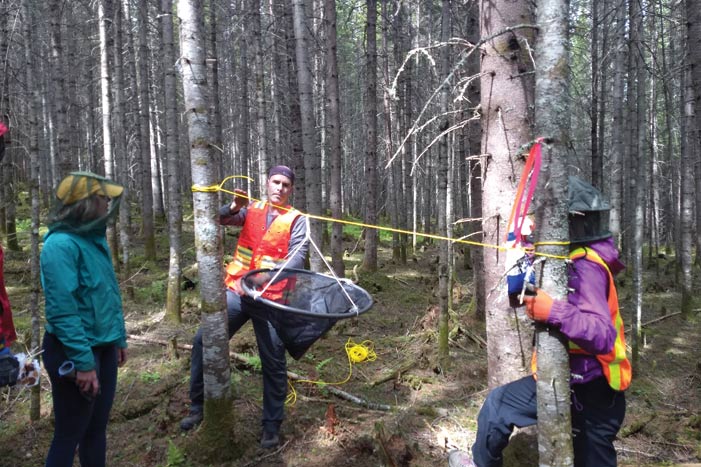 A research lab at the University of New Brunswick has received federal funding for a study into the impact of spruce budworm outbreaks on the environment and climate change.
Dr. Stephen Heard, a professor of biology at UNB Fredericton, and his research lab have received more than $400,000 in funding from the Natural Sciences and Engineering Research Council of Canada's (NSERC) Advancing Climate Change Science in Canada initiative. The funding was announced on July 11 as one of nine climate change research projects receiving a total of $4.7 million. 
The project will examine how the spruce budworm – a major forest pest that defoliates and kills conifer trees – affects the crucial role forests play in Earth's carbon cycle. Trees remove carbon dioxide from the atmosphere and store it in soil. Defoliated forests are less able to remove carbon dioxide from the atmosphere and the thinner tree canopy means warmer soils, which may release stored carbon from the soil.
"We're pleased to receive funding and recognition from NSERC to help us carry out vital research, revealing the many ways spruce budworm outbreaks change forest ecosystems and affect our climate," says Dr. Heard. 
The research is a collaboration between UNB, the Canadian Forest Service in Fredericton and Quebec City, and Agriculture and Agri-Foods Canada in Fredericton and includes federal research scientists Dr. Michael Stastny, Dr. Deepa Pureswaran, Dr. Cameron Wagg, and Dr. Louis-Pierre Comeau.
Dr. Heard's team will compare forest plots that have been defoliated by the budworm with similar, nearby plots that have been protected from budworm damage by BTK, a biological insecticide.
"Together, these measurements will help us understand how budworm outbreaks change the carbon cycle in forests, and how we can use BTK treatments to intervene to protect the carbon-storage role of the forest," Dr. Heard says.  
This study is linked to an even larger project which details how the spruce budworm is affecting many other aspects of forest ecosystems.
"Science clearly shows us the causes of climate change, and our government is supporting the scientists that we know will show us the solutions. Working with scientists and academics will help us keep pushing forward in the fight against climate change. By coming together and working collaboratively we can ensure a safer, healthier, more prosperous future for our children and grandchildren," says the Honourable Catherine McKenna, Minister of Environment and Climate Change.
Media contacts:
University of New Brunswick
Kelsey Pye
k.pye@unb.ca
Natural Sciences and Engineering Research Council of Canada
Rhiannon Renaud
rhiannon.renaud@NSERC.CRSNG.GC.CA
Photo: 
Dr. Michael Stastny from the Canadian Forest Service participating in spruce budworm research. Credit: Dr. Stephen Heard/UNB