UNB Law professor honoured with distinguished teaching award
Author: UNB Newsroom
Posted on Jul 16, 2019
Category: UNB Fredericton , myUNB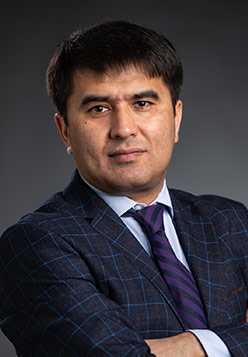 UNB Law professor Dr. Vokhid Urinov has been presented with a 2018 Teaching Innovation Award for his commitment to fostering a collaborative and innovative teaching environment.
In his four years of teaching at UNB, Dr. Urinov has driven classroom engagement through a problem-based approach to learning. His innovative "context first, concept after" method promotes student-centred teaching and learning, challenging students to connect real-life issues with legal theory.
"Our conventional teaching approaches tend to focus more on helping students to earn technical knowledge but less on what they can do with the acquired knowledge," says Dr. Urinov. "My 'context first, concept after' approach to teaching attempts to effectively bridge this gap."
Dr. Urinov applies this teaching method by presenting students with a hypothetical case scenario or "trigger problem" that captures the theme of the class. Through discussion, the class examines the scenario and determines any relevant legal issues that may be present. Students group together to write an opinion letter connecting the case scenario to the course material. The letter is then posted through an online course forum where it is openly discussed amongst the class.
Dr. Urinov believes this approach adequately prepares students for the rigours of the workplace. He says that in their everyday working lives, legal professionals deal with real-life problems; in an effort to solves these issues, they must find the rule, material, or judicial authority that may apply to the problem at hand, analyze it in light of these materials, and effectively communicate and present their finds to the client.
"These are extremely important skills for our students to develop," he says.
UNB Law dean John Kleefeld is delighted to see a member of his faculty receive such recognition.
"Dr. Urinov embodies the law faculty's commitment to career-oriented teaching. Dr. Urinov urges his students to 'make it real' by challenging them to connect topical scenarios to their course material. There is a detective aspect that the students really enjoy."
This is Dr. Urinov's second UNB teaching award in as many years, having won the 2017 Law Faculty Teaching Excellence Award.
Media contact: Ed Bowes
Photo: Vokhid Urinov, a professor in UNB's faculty of law, received a 2018 Teaching Innovation Award for his innovative approach to teaching. Photo credit: Rob Blanchard/UNB