UNB's Mi'kmaq-Wolastoqey Centre receives federal funding for Indigenous language work
Author: UNB Newsroom
Posted on Jul 25, 2019
Category: myUNB , UNB Fredericton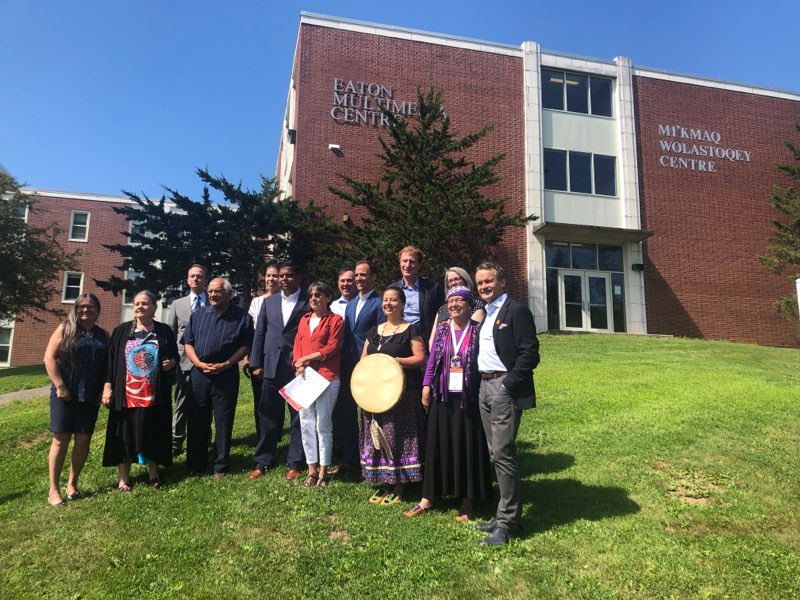 The Mi'kmaq-Wolastoqey Centre at the University of New Brunswick received more than $74,000 from the federal Aboriginal Languages Initiative for its Wolastoqey Latuwewaken Revival program.
The Honourable Seamus O'Regan, Minister of Indigenous Services, announced the funding at the UNB Fredericton campus on Wednesday. The funding is part of $4.1 million the Government of Canada plans to invest over two years in 36 projects relating to Indigenous language preservation and revival.
The projects are community-based and will support the promotion and preservation of the Mi'kmaq, Maliseet, Wolastoqey, Passamaquoddy and Innu-Aimun languages. They include languages camps, mentor-apprentice programs and immersion programs in the Atlantic provinces. Many involve the production and distribution of language resources and educational materials.
"We've heard from fluent speakers that our ancestral languages contain our identity, worldview, and knowledge," says Amanda Rogers, UNB Piluwitahasuwin. "The United Nations Declaration on the Rights of Indigenous Peoples recognizes that access to our languages is an inherent right. This federal funding is a step in the right direction, and I look forward to the bold commitments that are needed for Indigenous language preservation, revitalization, and transmission in ways that support immersion."
"The Mi'kmaq-Wolastoqey Centre and all of the projects being funded through the federal Aboriginal Languages Initiative are doing vital work to preserve and teach Indigenous languages around the country. Their efforts will ensure these languages are not only kept alive, but grow in reach and use across Canada," says Dr. Paul Mazerolle, UNB president and vice-chancellor.
UNESCO declared 2019 the International Year of Indigenous Languages. The Mi'kmaq-Wolastoqey Centre has been marking the occasion for several months and held the first Indigenous Language Gathering Celebration: Nikana'tunej (carrying language forward) / Namkomihptune 'Ciw Weckuwapasihtit (carrying language forward for the ones not yet born) in April at UNB Fredericton.
"Language is essential to Indigenous Peoples' identity and culture. That is why our government is committed to taking action to help preserve, promote and revitalize Indigenous languages. Together with Indigenous partners, we are ensuring that Indigenous languages can flourish across the country," says the Honourable Pablo Rodríguez, Minister of Canadian Heritage and Multiculturalism.
Media contact: Kelsey Pye