UNB student wins Startup Canada pitch competition
Author: UNB Newsroom
Posted on Jun 28, 2019
Category: myUNB , UNB Saint John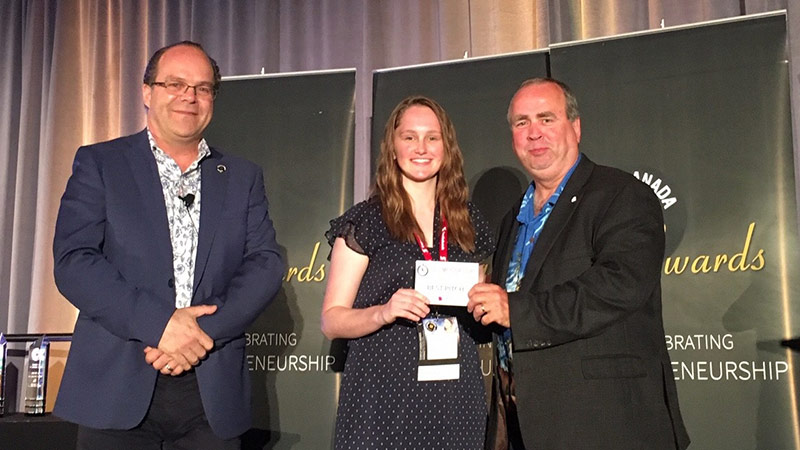 A co-op student from the University of New Brunswick won a pitch competition at the Startup Canada awards ceremony on June 11.
Ashley Vaughan, who will enter her fourth year in the faculty of business at UNB Saint John this September, is completing her final co-op term at Millennia TEA at the end of August.
Millennia TEA is an early stage company based out of Saint John with a unique product. Instead of heating and drying tea leaves like conventional processors, their tea leaves are picked, washed and flash-frozen in Kenya in order to protect the maximum amount of nutrients.
The founders started the company in 2016 after a health scare affected their family. It has since won numerous awards, including best new product for innovation at the biggest show in the world for specialty teas, the World Tea Expo. The company also landed a deal on Dragons' Den.
Ms. Vaughan's co-op supervisor, Millennia TEA co-founder and CEO Tracy Bell, suggested she submit a one-minute video for the "Sell Me Your Stuff" pitch competition, hosted by Startup New Brunswick.
"I was apprehensive at first, as I get extremely nervous in front of the camera," Ms. Vaughan said. "But I knew I had to do it for my TEAm. Much to my surprise, our video won best pitch at the Startup Canada Awards in Fredericton."
"It was a great learning experience for me," she added. "I am thankful to have such amazing leaders in my life who push me outside of my comfort zone and show me what I'm truly capable of. The most important thing I have learned while working for Millennia TEA is that having great relationships with your co-workers is essential. Not only do I feel the most productive, but I also wake up every morning excited to go to work."
Ms. Bell said that Ms. Vaughan's contributions to Millennia TEA are helping to advance a number of the company priorities.
"Ashley's strong work ethic, coupled with a keen curiosity and desire to learn and contribute, are helping us do more in meaningful, real-world ways," she said. "She has helped us to develop a number of business strategies that have allowed us to engage with customers and individuals who may want to know more about how our wholefood superfood teas are fuelling wellness.
"Ashley's a star and it's terrific to see her good work recognized with the Startup Canada award."
Ms. Vaughan's co-op position at Millennia TEA was made possible by funding from FutureNB, a program that provides students with on-the-job experiences with provincial employers prior to graduation from high school or university.
"FutureNB funding has allowed us to create new partnerships for experiential learning opportunities for students," said Sarah King, director of experiential education at UNB. "Our partnership with Millennia TEA is allowing our students to experience the diverse, exciting nature of working for a growing company and develop skills to help them reach their personal and professional goals."
Media contact: Angie Deveau
Photo: Norm Couturier, Ashley Vaughn and Doug Jenkins. Credit: Heather Acker.