UNB data research leader wins national award
Author: UNB Newsroom
Posted on Jun 7, 2019
Category: myUNB , UNB Fredericton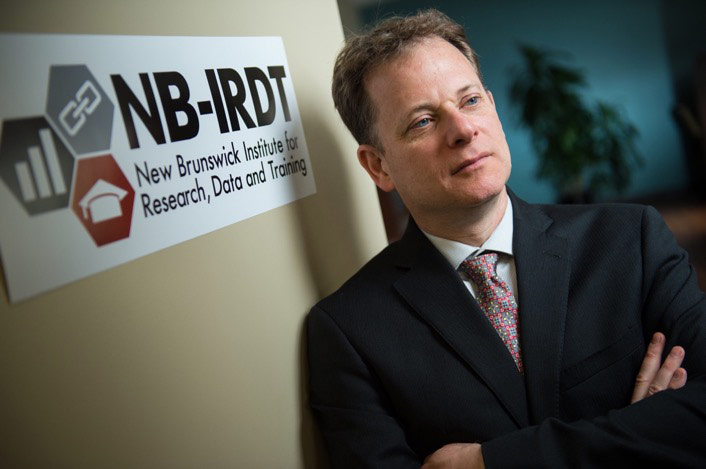 A University of New Brunswick economist who has led efforts to establish New Brunswick as a leading jurisdiction for data research and evidence-based policy has been recognized nationally for his work since 2015.
Dr. Ted McDonald, the director of UNB's New Brunswick Institute for Data, Research and Training (NB-IRDT), received the Mike McCracken Award for Economic Statistics on June 1 at the National Economics Association's 53rd annual conference in Banff, Alberta. Dr. McDonald was a co-winner of the award, which comes with a prize of $2,000, with Jane Badets and Sylvie Michaud, both assistant chief statisticians at Statistics Canada.
Dr. McDonald helped found the NB-IRDT in 2015 as New Brunswick's only data research centre and steward of provincial health and administrative data. The institute now has satellite locations at both UNB Saint John and the Université de Moncton.
"We weren't the first provincial data centre in Canada. But we've managed to leap ahead of other provinces in terms of the richness of the data available to researchers and our collaboration with the provincial government," says Dr. McDonald.
"New Brunswick has become an attractive and progressive location for academic, clinical and private sector researchers," says Dr. McDonald.
Key to New Brunswick's leap ahead was a provincial omnibus bill initiated by the Province's Executive Council Office and supported by key line departments that amended more than 20 pieces of legislation to enable provincial health and administrative data to be shared with the NB-IRDT for research purposes after being stripped of personal identifiable information.
"Most New Brunswickers assumed their data was being used all along to inform economic, social and healthcare decisions. But it wasn't until the Legislature passed the Act Respecting Research in 2017 that we were able to get access and combine data from a variety of departments," says Dr. McDonald.
Because the datasets are now centrally stored and linked, government policy makers have the ability to make evidence-based decisions like never before, explains Dr. McDonald.
"As an example, we reported on New Brunswick's immigrant retention record. We showed how many immigrants had arrived in New Brunswick over a period of time, their nationalities, if they left and if they stayed. This data helps government identify exactly where we need to do a better job retaining immigrants and which countries we should target to attract the immigrants most likely to stay," says Dr. McDonald.
"We're helping to take a lot of the guesswork out of decisions that impact New Brunswickers and Canadians in a profound way. Facts are powerful tools," says Dr. McDonald.
About the NB-IRDT
The NB-IRDT is New Brunswick's data repository for administrative and clinical data from the Department of Health and other provincial government departments and public bodies. Headquartered on the Fredericton campus of the University of New Brunswick, the institute has satellite offices at the University of New Brunswick Saint John and Universite de Moncton. Resident researchers assist with the design, execution, interpretation, reporting of research projects and program assessment.
Media contact: Mara Mallory
Photo credit: UNB