Nursing faculty receive recognition for outstanding achievements
Author: UNB Newsroom
Posted on Jun 13, 2019
Category: UNB Fredericton , myUNB , UNB Saint John
Four University of New Brunswick faculty members have been honoured by the Nursing Association of New Brunswick (NANB) for their contributions to nursing in the province.
Dr. Patricia Seaman, Kim Wilbur, Cathy O'Brien-Larivee and Dr. Tracey Rickards received recognition from the NANB on June 4.
Dr. Seaman, a nursing instructor at UNB Fredericton, received the Lifetime Membership Award. This award recognizes long or outstanding services to the nursing profession, either by serving in elected office or by participating in committee work at the national or provincial level.
In addition to her BN from UNB, her MN from Dalhousie University and PhD from UNB, Dr. Seaman received a diploma in nursing from the Women's College Hospital, in association with Ryerson's Polytechnical Institute in 1975. Throughout her career, she has worked as a staff nurse and held a number of positions with the Victorian Order of Nurses of Canada, including eastern regional director. She was acting dean of nursing at UNB Fredericton from 2016-2018 and has served on various national committees to promote and enhance both the education and practice of community health nursing.
"My personal philosophy has always been, 'If a door opens, go through it.' That has led me far beyond my dreams as a young nurse, with many unforeseen, but extremely rewarding, opportunities," says Dr. Seaman. "In each of my positions, I took advantage of opportunities to get involved in leadership roles where I could influence policies related to nursing, nurses and care delivery. It is indeed an honour to receive a Lifetime Membership Award for doing what I have been passionate about – nursing."
Ms. Wilbur received the NANB Award of Merit: Nursing Practice for her outstanding achievements in breast cancer research, the development of youth mental health programming, the implementation of harm reduction initiatives and long-standing advocacy on behalf of highly complex and vulnerable populations.
Currently completing her master of nursing at UNB, Ms. Wilbur is a graduate of L'ecole d'infirmieres de Bathurst School of Nursing. As a community health practitioner and nurse educator in the department of nursing and health sciences at UNB Saint John, she remains focused on the care and well-being of marginalized populations living with mental health and substance use challenges.
Ms. Wilbur is also the recipient of the Canadian Nurses Foundation 2019-2020 Scholarship recipient, an award that demonstrates confidence in her academic abilities and potential to make a valuable contribution to the nursing profession in Canada.
"Recognizing the importance and impact of the social determinants of health on our communities and the dotted line to acute care services is essential," says Ms. Wilbur. "It is an exciting time to be involved in the development of collaborative upstream prevention services."
"The inclusion of harm reduction strategies and culturally relevant policies allows for the inclusion of peers with lived experiences, as well as colleagues and students from every discipline," she says. "I remain optimistic about the future and believe that we can collectively make a difference in the health of our communities."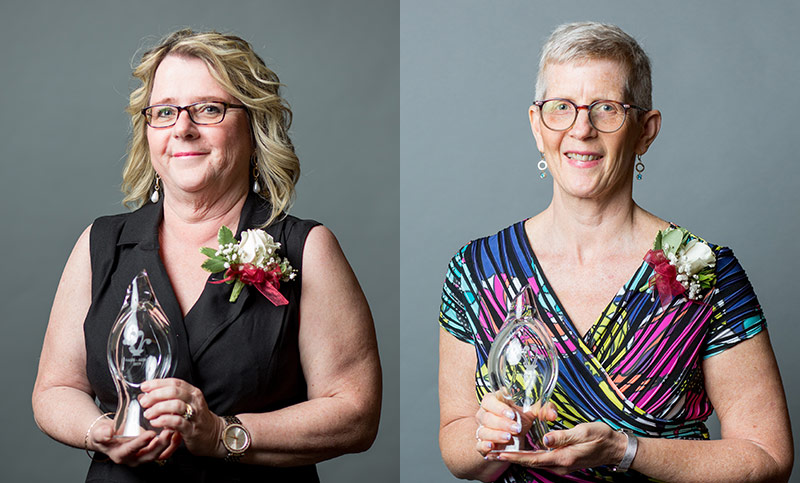 Ms. O'Brien-Larivee, chair of the department of nursing and health sciences in Saint John, is receiving the NANB Award of Merit: Administration for outstanding leadership, advocacy in promoting the profession of nursing though the delivery of excellence in nursing education and achievements in building significant partnerships within both the nursing and local communities.
Graduating from UNB's BN program and McGill University's MSc (A) program, Ms. O'Brien-Larivee has held numerous nursing positions throughout her career from practice, education and population advocacy to various leadership positions. Underlying themes related to her work include providing excellent service to clients, populations and students, ensuring that care delivery and education are organized in the most efficient way possible and never compromising excellence.
"Regardless of the roles that we have in nursing, one factor remains critically important to those with whom we work: our clients and colleagues want us to be engaged," says O'Brien-Larivee. "It's important that we lead by example and be transparent, while treating them equitably. This is critical when in a leadership role."
Dr. Rickards, an associate professor in UNB Fredericton's faculty of nursing, received the Award of Merit: Research. This award acknowledges those who have made unique contributions to the nursing profession and who demonstrates excellence in nursing research and practice.
As an associate professor and member of the Fredericton Downtown Community Health Clinic, Dr. Rickards conducts transformative research with vulnerable populations. She also teaches and supervises students in the faculty of nursing. She received her BN and MN from UNB and received her PhD in nursing from Dalhousie University in 2013.
"I am honoured to be receiving the Award of Merit: Research," says Dr. Rickards. "The research I am engaged in at the Fredericton Downtown Community Health Centre is supported by CIHR's Embedded Clinician Researcher Salary Award. The focus of my research is to identify transformative solutions that aim to improve health outcomes for the many vulnerable populations served by the FDCHC. The NANB award recognizes the work I have been engaged in over the past five years."
Three UNB students also received the President's Award. Logan Rousselle from the Saint John campus, Robert Pelletier from the Fredericton campus, and Marlise O'Brien from the Moncton campus were recognized for their excellence.
Media contact: Angie Deveau
Photo 1: Dr. Patricia Seaman and Kim Wilbur
Photo 2: Cathy O'Brien-Larivee and Dr. Tracey Rickards
Photo 3: UNB students Logan Rousselle, Marlise O'Brien and Robert Pelletier, who received NANB President's Awards on June 4.