UNB valedictorian on 2019 Summer Universiade organizing squad
Author: UNB Newsroom
Posted on May 28, 2019
Category: UNB Fredericton , myUNB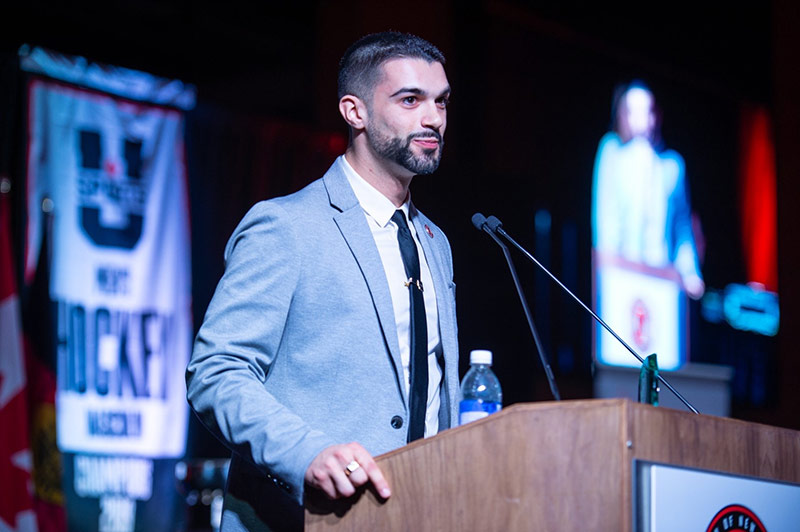 A University of New Brunswick valedictorian is spending his last few weeks as a UNB student in Naples, Italy, as part of the organizing committee for the Napoli 2019 FISU Summer Universiade, one of the largest sporting events in the world.
Kristian D'Amore will work alongside people from all backgrounds and nationalities, including some who have organizing experience from Olympic Games committees. Mr. D'Amore will graduate from UNB on May 29 in Fredericton, and will serve as valedictorian for the second ceremony.
"I am extremely excited to be going to the Universiade," says D'Amore "It's unbelievable that I have this opportunity. I'm incredibly grateful."
Sports is one of Mr. D'Amore's biggest passions and he has already built an extensive resume on and off the field. He helped launch the first Sports Business Conference in Atlantic Canada at UNB in 2018 and served on the organizing committee for three U SPORTS national championship tournaments on campus. Mr. D'Amore was an international delegate for last summer's World University Beach Volleyball tournament in Munich, Germany.
Before heading to Italy, Mr. D'Amore also served as a business consultant for Hamilton Honey Badgers, a basketball team in the Canadian Elite Basketball League.
At the Universiade, Mr. D'Amore will be the manager of international/national technical official services and will report directly to the director of sports and operations. His department will be responsible for the flights, transportation, food, visas, accommodations, and overall delivering an exceptional experience for approximately 1,000 referees.
Mr. D'Amore hopes that this experience will help him land a career with a professional sports team.
"My dream job is to be the president of a professional sports franchise like the Toronto Raptors," he says.
Mr. D'Amore graduates this spring with a degree in recreation and sport studies, with a business minor. In the fall he will attend the University of Windsor for an MBA, another program that will expose him to the world of sport.
Media contact: Kelsey Pye
Photo credit: UNB