UNB students attend Daughters of the Vote event
Author: UNB Newsroom
Posted on May 10, 2019
Category: UNB Fredericton , myUNB , UNB Saint John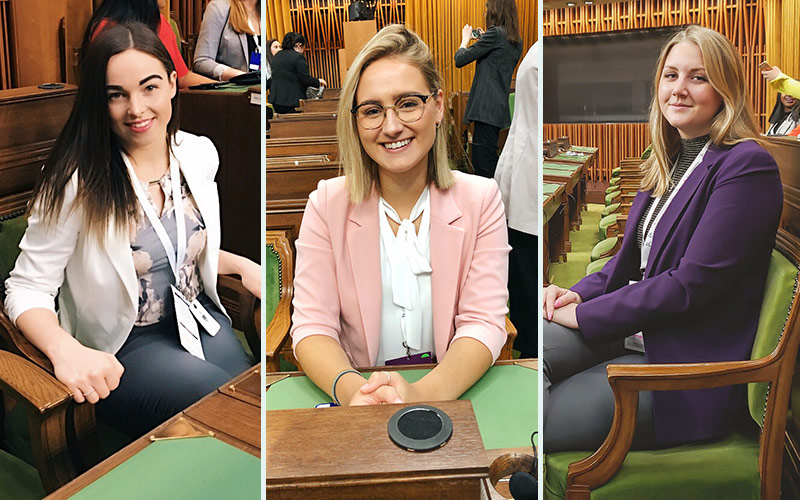 Five students from the University of New Brunswick were selected to attend the second annual Daughters of the Vote summit in Ottawa in April.
Ashley MacLean, Madison Kenny, Emma Green, Ally Buchanan and Kasey Dionne represented five of 338 young women, between the ages of 18 and 23, who were selected to represent their federal ridings at the event, which took place April 1-4 on Parliament Hill.
Daughters of the Vote was created by Equal Voice, a bilingual, multi-partisan organization that advocates for the equal representation of women in Canadian politics. Part of the event took place in the House of Commons, where delegates were able to take the seats of their federal riding representative. The summit included an Indigenous forum, skills and leadership training sessions and engagement opportunities with elected officials.
Ashley MacLean, second-year psychology student and mental health advocate at UNB Saint John, represented the Saint John-Rothesay riding.
"At first, I went into this experience wanting to understand how federal policies can have an impact on the mental health crisis in our country," she said. "But after being given the opportunity to collaborate with my MP in Parliament, this experience sparked a flame inside of me. I'm now working on becoming an activist in my community and I'm learning to expand my advocacy to tackle local issues, such as poverty and addiction. I'm excited to see where my newly-sparked interest in policy takes me."
Madison Kenny represented the Acadie-Bathurst riding. As a third-year Renaissance College student and daughter of a member of the Legislative Assembly of New Brunswick, Ms. Kenny is no stranger to politics. She described the experience as powerful and emotional.
"The overall event was hard to put into words," she said. "As a Renaissance College student studying leadership, with an interest in politics, it was amazing to see the potential of our future in regards to women's representation in leadership. To be able to witness all of these young women from across the country have such passion in their political and advocacy work was rejuvenating. I can see that the future is very bright." Emma Green, a fourth-year student from the faculty of business in Saint John, was selected to represent the New Brunswick Southwest riding.
"This was a great experience because my degree centers around equity and business," she said. "It was wonderful to chat and network with the other delegates. While in Senate, I was one of 23 women who had the opportunity to speak about an issue of our choice. I chose child poverty, an issue that hits home for many New Brunswick residents. I had a minute to make my points heard, and the message was well received from those who were able to attend."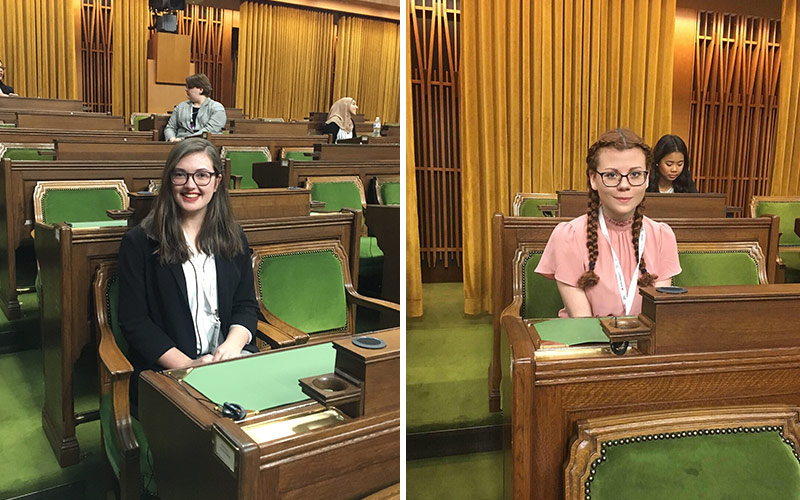 Ally Buchanan is a first-year student from Renaissance College. She was chosen to represent the Barrie Springwater Oro-Medonte riding in Ontario. She left the event feeling motivated and inspired to become more involved back home.
"It was hard to describe my experience at the Daughters of the Vote event," she said. "I learned a great deal through the event itself, and also through my fellow delegates and the incredible things that they are doing in their communities. I felt so fortunate to have been able to meet and learn from these amazing leaders and change makers."
Kasey Dionne, a fourth-year computer science student at UNB, represented the Tobique-Mactaquac riding. She described the event as very eye-opening.
"My experience at Daughters of the Vote was a fantastic opportunity to meet involved young women from all over the country and to learn about the issues facing their communities," she said. "I'd recommend the program to anyone, especially those who aren't necessarily involved in politics yet."
The first Daughters of the Vote event was held in 2017, the 100th anniversary of women's formal federal public engagement. Although some women won the right to vote federally in 1917, It would take an additional 45 years for the majority of Canadian women over the age of 18 to win the right to vote.
Media contact: Angie Deveau
Photo 1: UNB students Ashley MacLean, Madison Kenny and Emma Green
Photo 2: UNB students Ally Buchanan and Kasey Dionne