Engineering student a semi-finalist in national NSERC competition
Author: UNB Newsroom
Posted on Mar 15, 2019
Category: UNB Fredericton , myUNB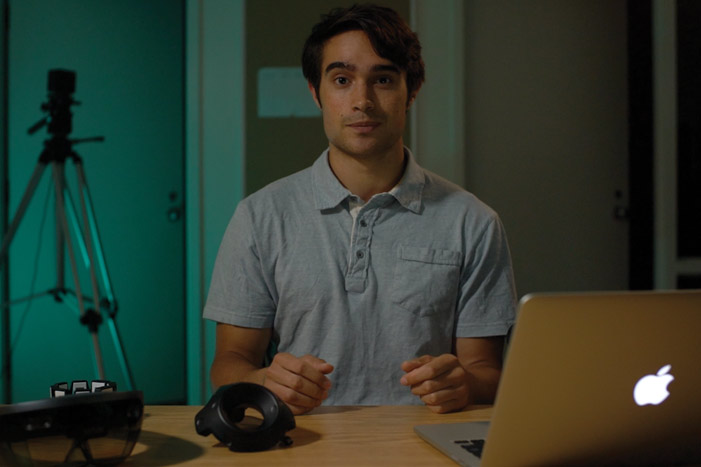 Wesley Finck, a fourth-year electrical engineering student from the University of New Brunswick Fredericton, is a semi-finalist in a national competition called Science, Action!
The competition, which features videos made by post-secondary students from across the country, is hosted by the Natural Sciences and Engineering Council of Canada (NSERC). The 25 videos with the most views by March 27 will proceed to the judges' panel, where they will compete for one of 15 cash prizes. Winners will also be featured in various museum exhibits, science fairs and during Science Odyssey and Science Literacy Week.
Mr. Finck's submission features his Augmented Reality Prosthesis Trainer project, which was completed last summer and supervised by UNB's Dr. Scott Bateman and Dr. Erik Scheme. The purpose of the project was to create a virtual training environment for upper limb amputees to learn how to control their myoelectric prostheses.
"I feel incredibly honoured to have had the opportunity to work with such amazing supervisors, as well as explore meaningful applications of cutting-edge technology" says Mr. Finck. "Not only did this experience expose me to the world of graduate students, it helped illuminate the vast realm of electrical engineering and solidify my passion for my education."
"Wesley has demonstrated through this project that undergraduate students can not only get involved in exciting research right here at UNB, but actually lead it and have an impact on a national stage," says Dr. Bateman, supervisor and director of the Human-Computer Interaction Lab at UNB.
In addition to his most recent research, Mr. Finck received a Schulich Leader scholarship in 2015. The Schulich Leader entrance scholarships, which are valued between $80,000 and $100,000, are awarded annually to promising high school graduates who are interested in a career in science, technology, engineering and mathematics.
Media contact: Angie Deveau
Photo credit: Vu Pham