Business faculty announces MBA student award recipients
Author: UNB Newsroom
Posted on Mar 20, 2019
Category: UNB Saint John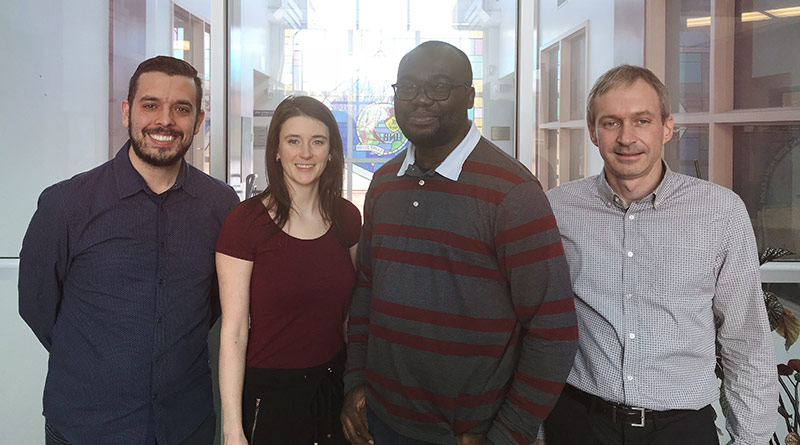 MBA candidates from the faculty of business at UNB Saint John recently received awards for academic excellence, entrepreneurial pursuits and service to their community.
Kristen Duplessis, Obiechina Azubike and Paul Logan each received the Walter and Joan Flewelling Memorial Award, worth $5,000. Daniel J. Mello received the Kerry McLellan scholarship, worth $1,000.
Ms. Duplessis, originally from Saint John, has been working in cardiology technology at the Saint John Regional Hospital for the last four years and spends her extra time volunteering with various local sports organizations. Ms. Duplessis has always been passionate about healthcare and wellness and believes that receiving this award will help her to achieve her goals.
"I will be pursuing the research stream," she said. "I hope to progress to healthcare management after the completion of the MBA to work towards bringing best practices to New Brunswick. The research stream gives me the opportunity to potentially complete a PhD."
Mr. Azubike, from Nigeria, is currently the vice-president of administration and communication for the MBA Society. He also serves as one of the graduate student representatives in the student technology fee committee.
"I have always strived for academic excellence and love the challenges that I've faced in the MBA so far," he said. "The program has allowed me to diversify my professional career, which has evolved from lecturing to information technology service provision in the oil and gas industry, as well as petroleum engineering."
Mr. Logan, originally from Halifax, decided to come to UNB to pursue an MBA after working in the areas of internal audit, policy, compliance and management review for various departments in the federal government.
"I hope to continue working in business analytics and process optimization in an organization that values engagement and growth," he explained. In addition to his academic pursuits, Mr. Logan is a busy father of two who spends countless hours coaching youth baseball and basketball.
Mr. Mello, from Brazil, is the current president of the MBA Society, as well as a project management instructor for online courses.
"The spirit of entrepreneurship has always been a major presence in my life," he said. "Before coming to Canada, I ran my own business within the caring industry. I was attracted to UNB Saint John because of the endless opportunities for learning and growth. It's my goal to take the knowledge and experience that I've gained from the MBA program and continue to support my community."
"These awards celebrate MBA students who give back to our community," said Dr. Rob Moir, acting dean in the faculty of business at UNB in Saint John. "They are given in recognition that our students are also leaders, both on and off campus. I am so proud of their accomplishments and look forward to their contributions in the years to come."
Media contact: Angie Deveau
Photo: Daniel J. Mello, Kristen Duplessis, Obiechina Azubike and Paul Logan from left to right. Photo credit: Hana Qiu